Disney Fairytale Wedding & Honeymoon Day 7: EPCOT Bridal Portraits
November 26, 2011 in Trip Reports, Wedding by Shelley
We drove over to EPCOT and began our photo shoot in Italy. I definitely think the EPCOT photo shoot was better because there was no one around and the photographer was able to relax and get more artistic shots. I am SO glad we did both the Magic Kingdom & EPCOT! There was a promotional marketing photo shoot going on for Disney Weddings with another couple so that was cool to see. We also saw a couple doing an engagement shoot.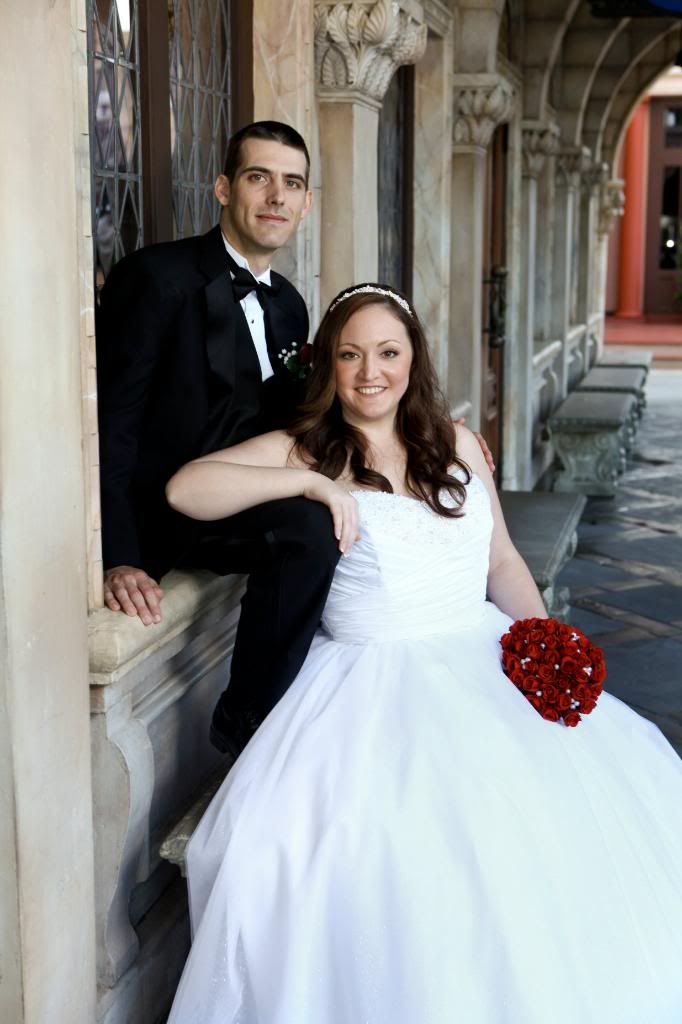 I think this one belongs in a Men's Wearhouse Ad! So handsome ::swoon::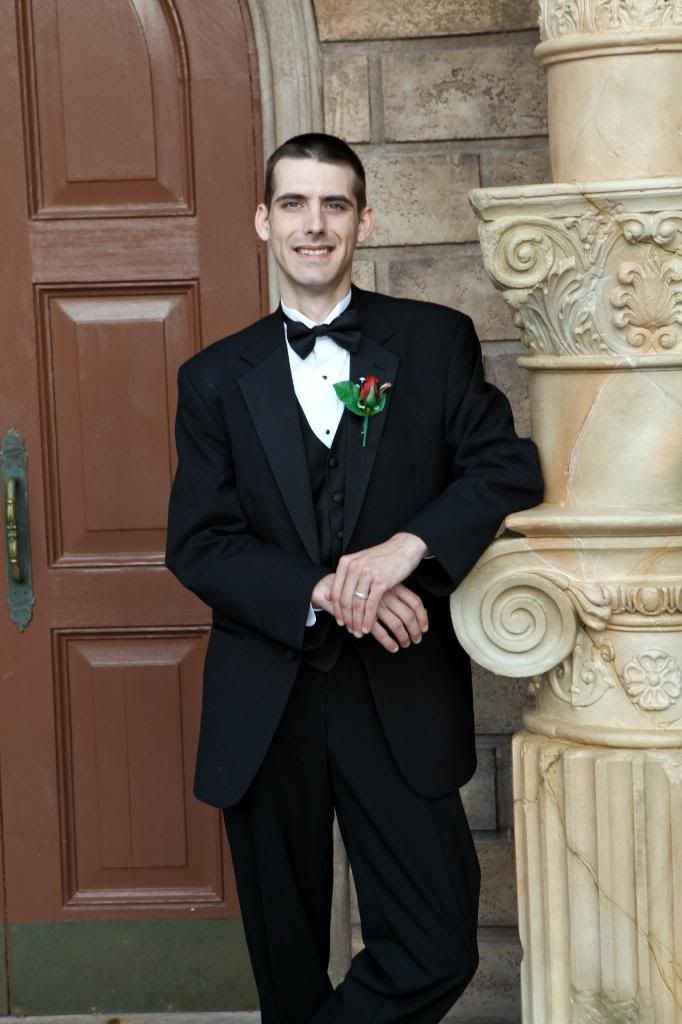 Italy is such a nice shooting area because it's so romantic. I love the lines of the architecture here!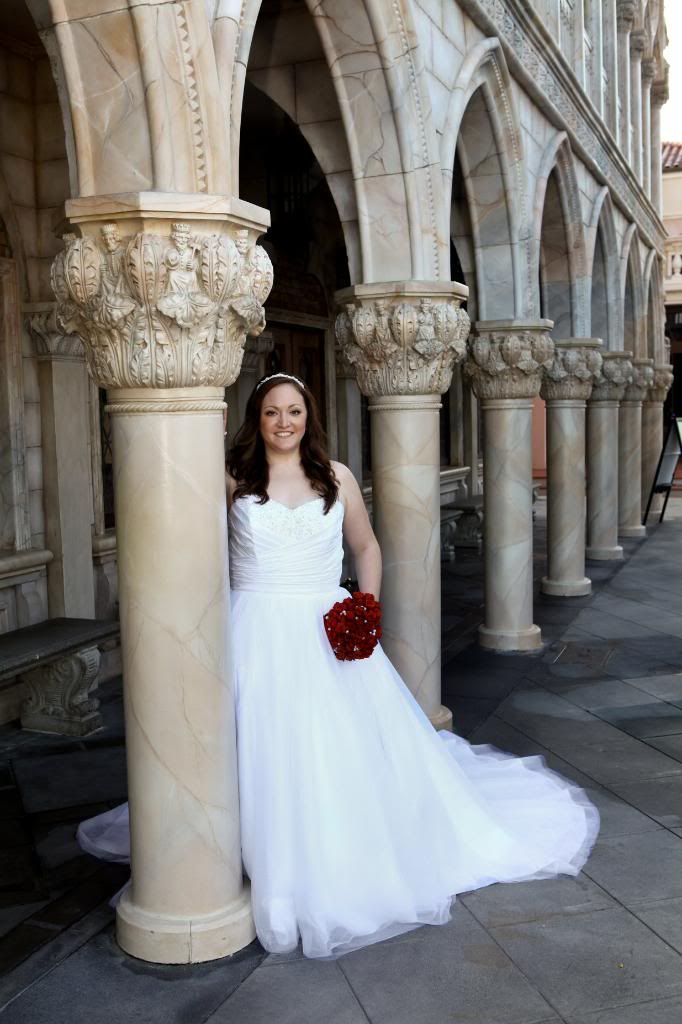 This is definitely near the top of my favorites! I love the angle, like I said the photographer really had more time at EPCOT to do artistic stuff with his shots.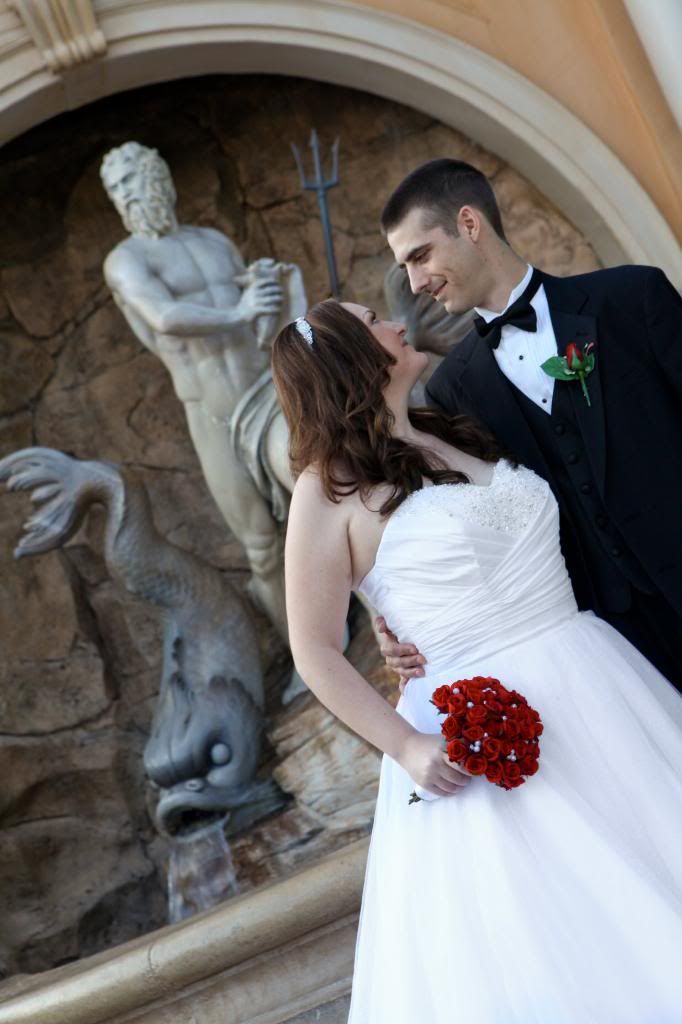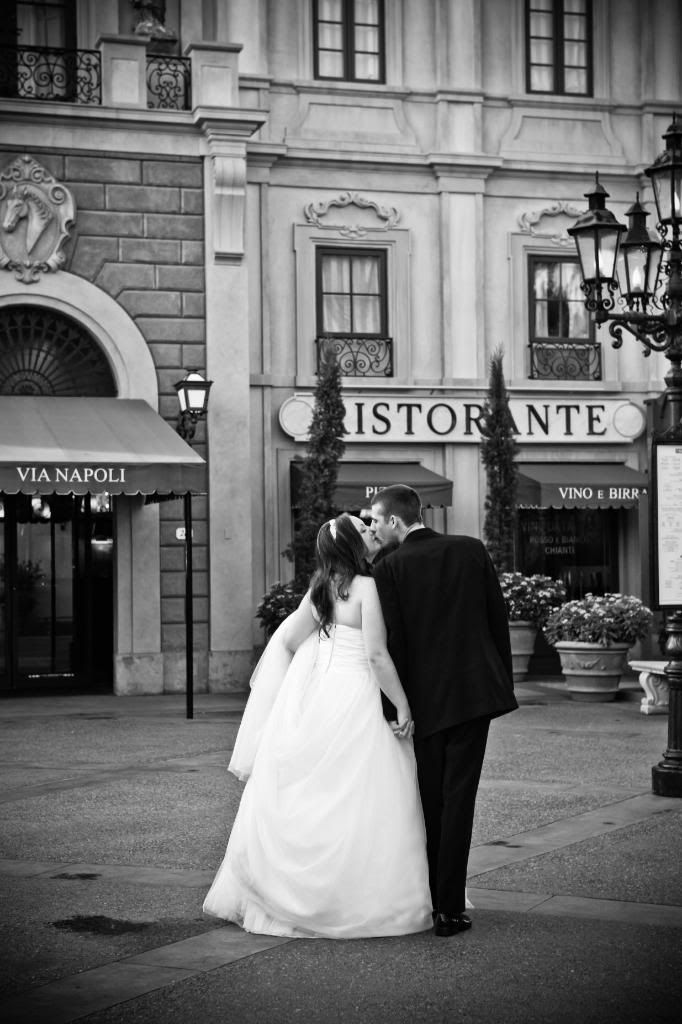 Then we moved on to Japan which was my idea. Being part Japanese, I have always been drawn to the Japan pavilion so I really wanted some photos. Unfortunately, Yakitori House and the seating area outside were under construction so we had to modify the plan a bit. They didn't make us walk around World Showcase, they drove us around in the van! It was so neat
Italy was pretty busy with people but after we left that pavilion, the others were just about empty. It was such an experience being in my wedding dress with my Prince in all of these different countries!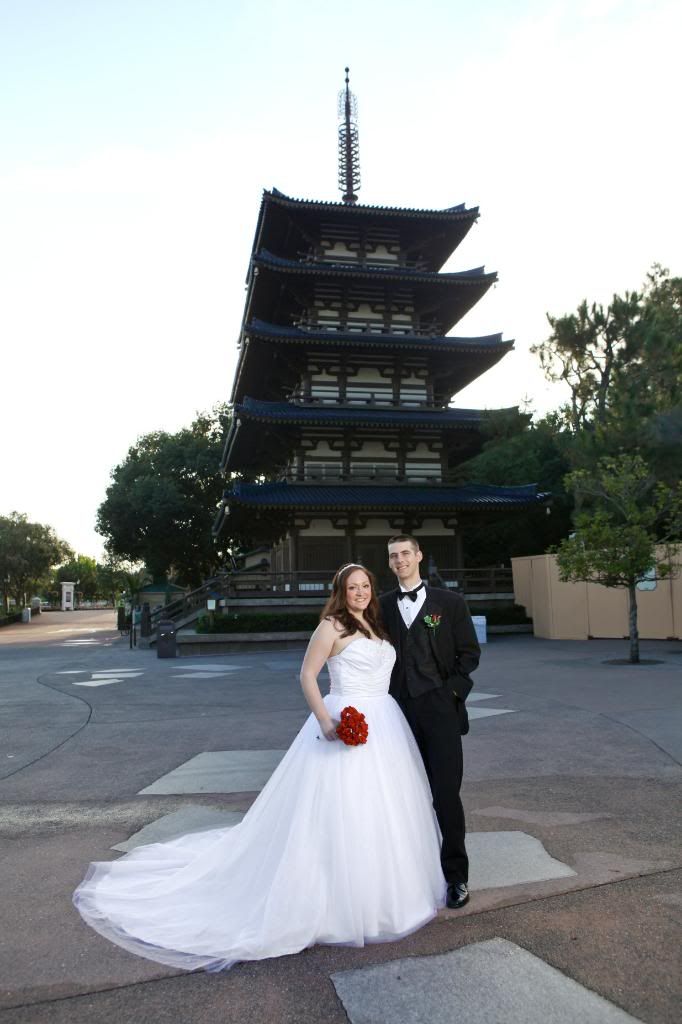 Since the outside shots weren't going to happen, the photographer had a great idea and took us inside of Teppan Edo. These pictures were really fun to pose for and turned out amazing!!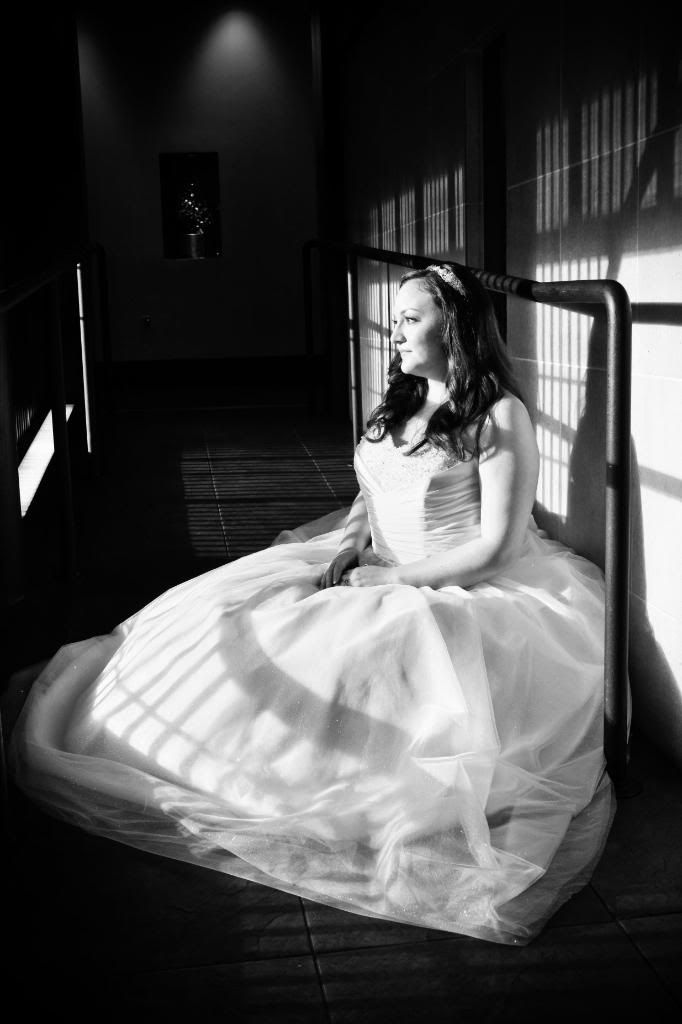 I'll have to ask my Grandmother what these characters mean. I took Japanese for 2 years in high school but I never got to the Kanji alphabet. I hope they don't mean something bad like "Marriage sucks"!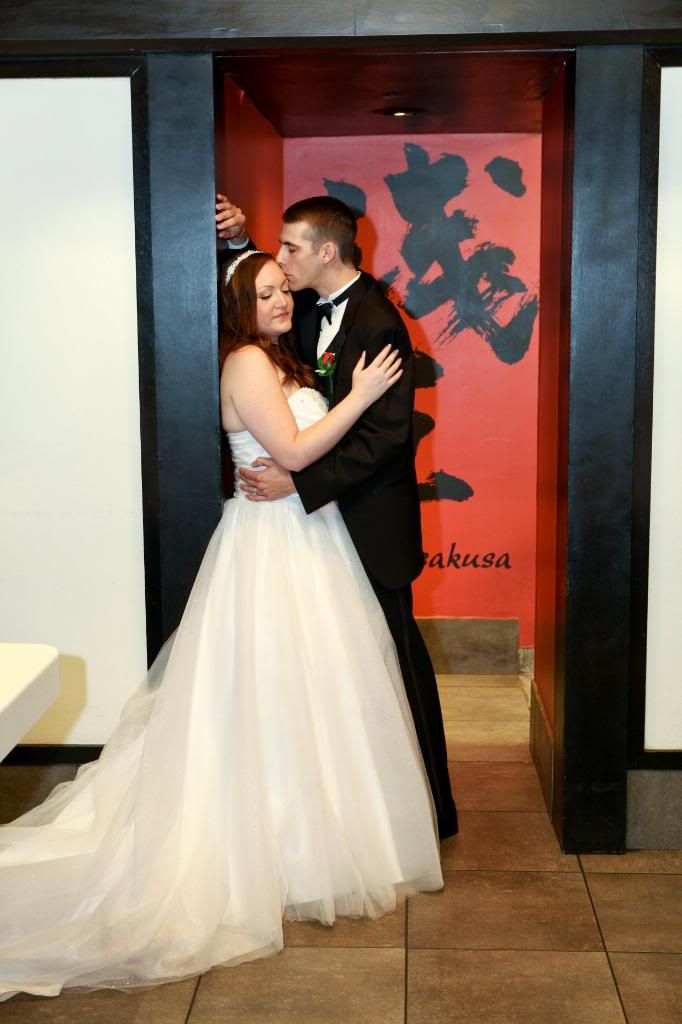 Jason calls this one "Help! I"m in a box!"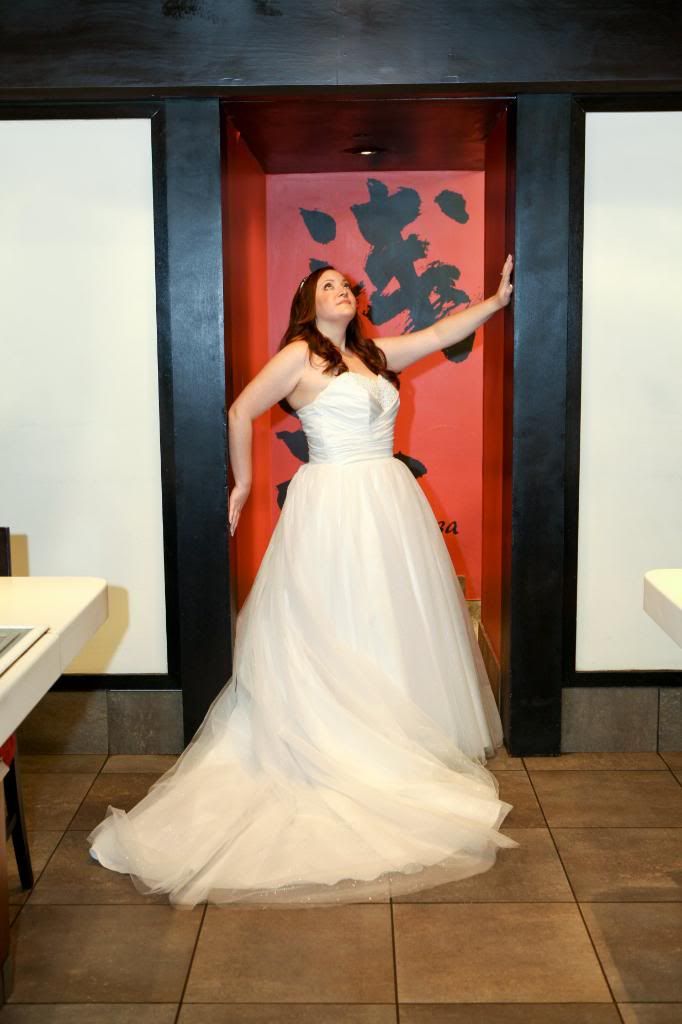 And this one is "I'm totally fine with being in this box".
I've seen this shot before and it turned out beautifully for us too
So romantic…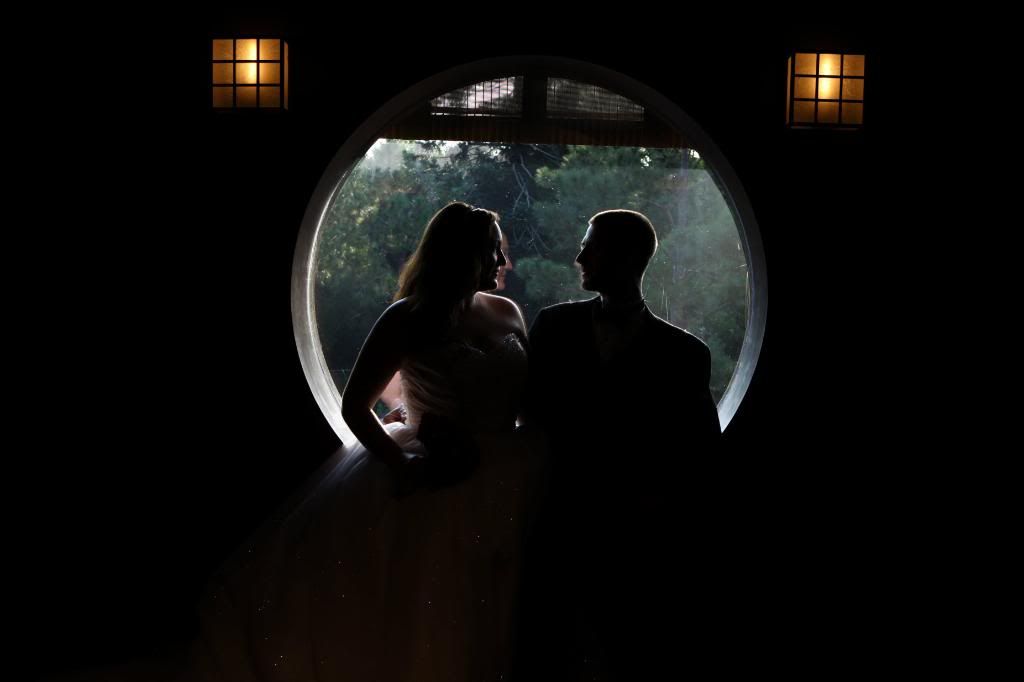 I can't tell you how many shots I have of this photo spot over the years. None of them are as beautiful as this!!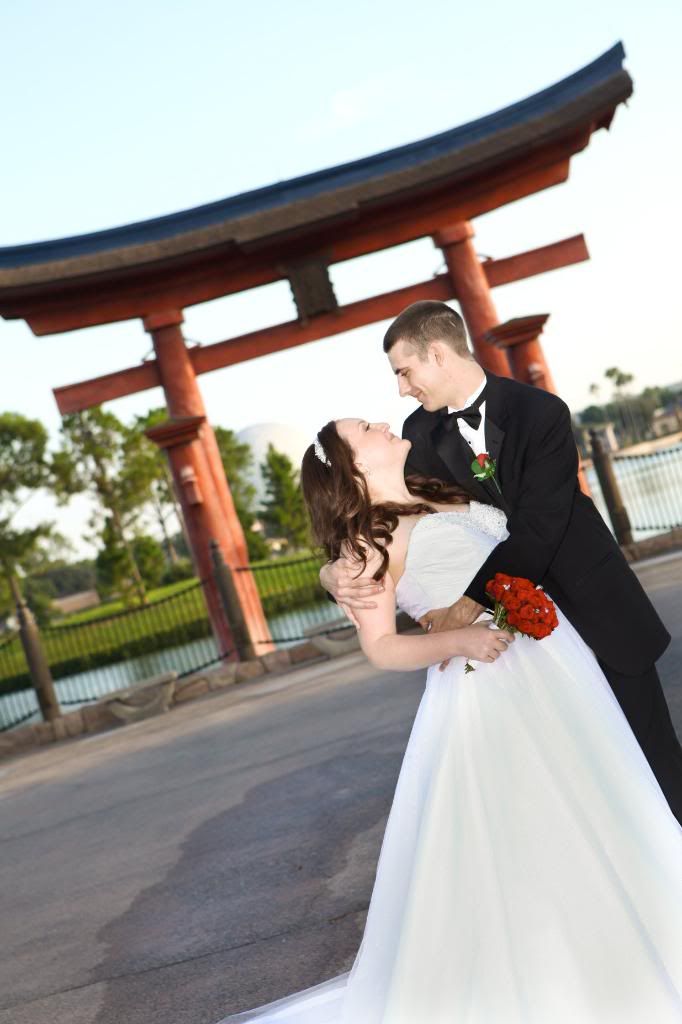 We moved along to Morocco and got more stunning shots. This was the photographer's pick, Jason and I were pretty skeptical because Morocco is one of the pavilions we really don't spend that much time in but I think now we have reason to spend more time there!
And this next one is the photo I'm now using as my avatar across all social media, I love it!!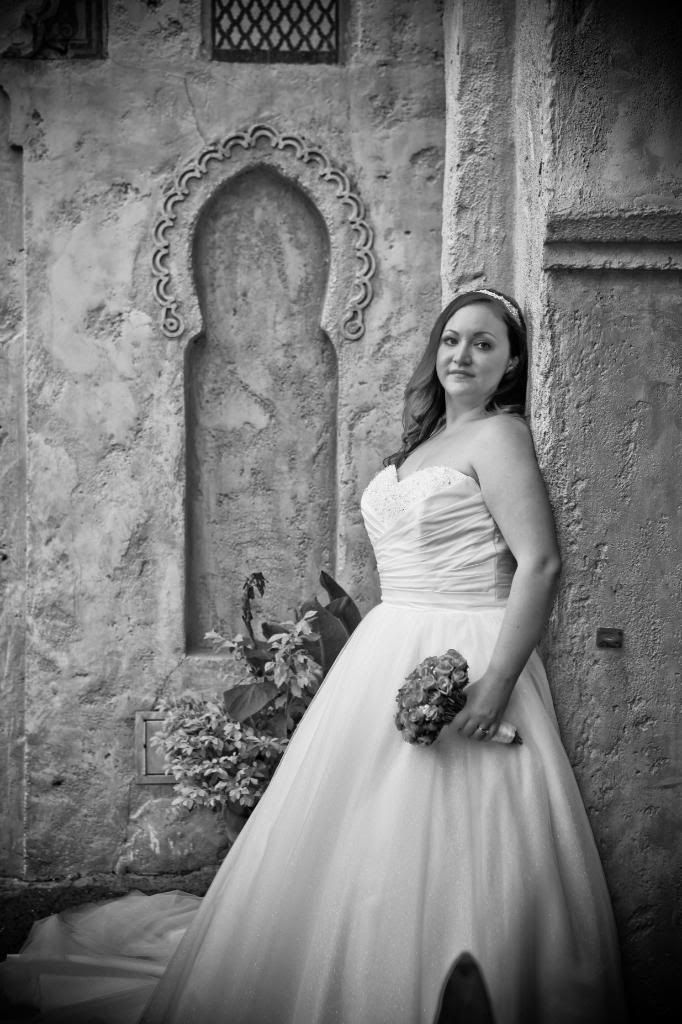 Another potential Men's Wearhouse Ad
After Morocco, we moved over to France. The photographer took some really beautiful stop motion shots in front of the fountain. This one is my favorite from that series!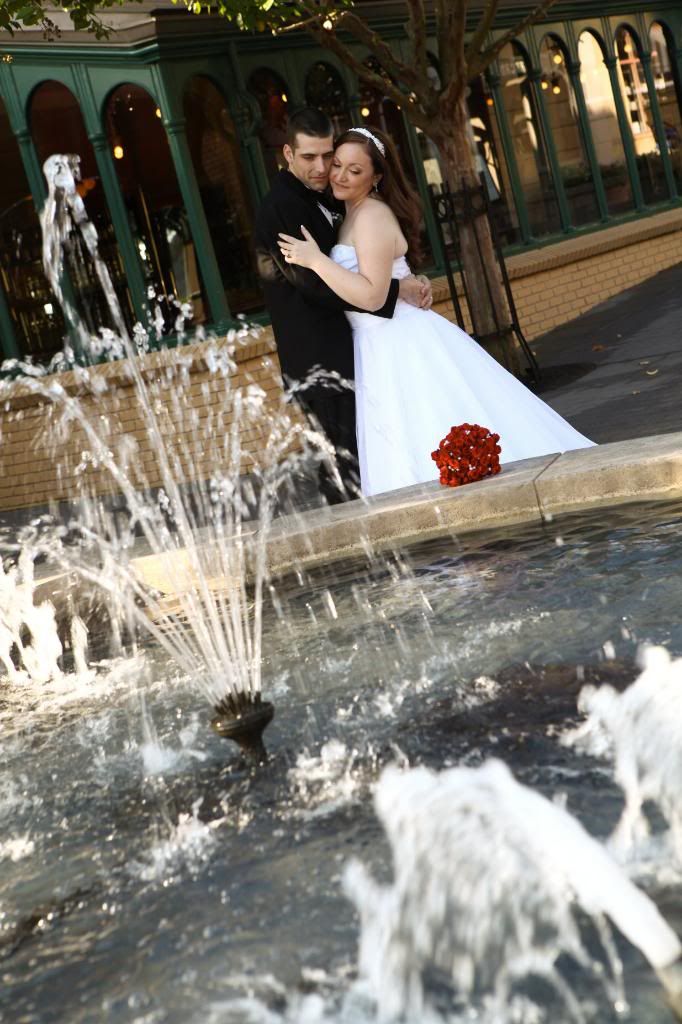 The rest of the shots were all my picks. I wanted to go into the France pavilion in the back where the Patisserie is. I love it back there! On hot, crowded days I like to kick it back there with a croissant and soda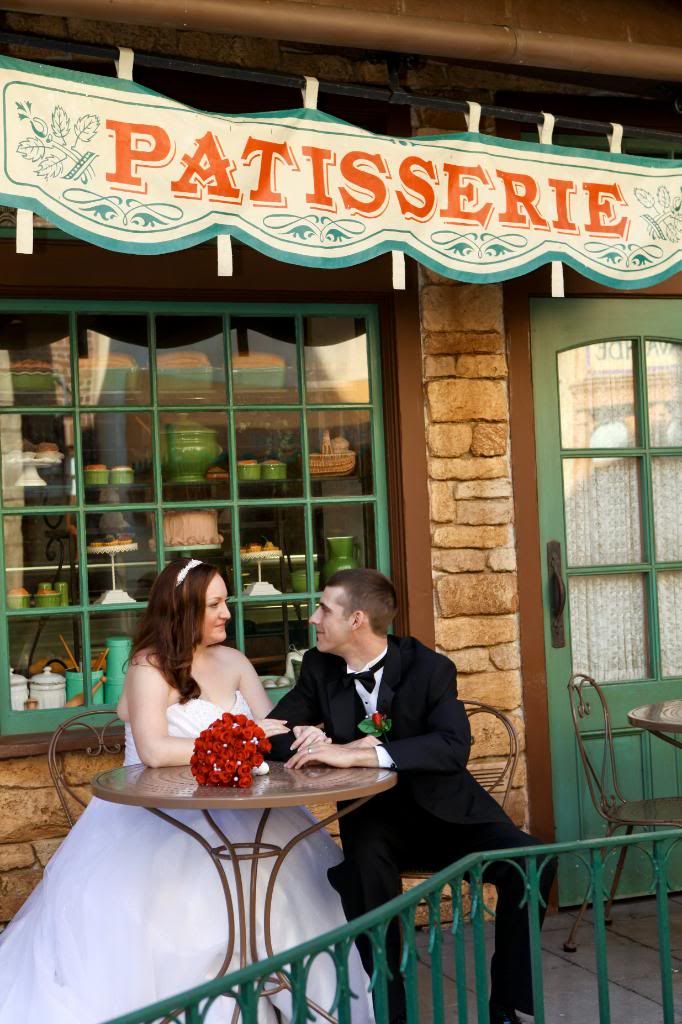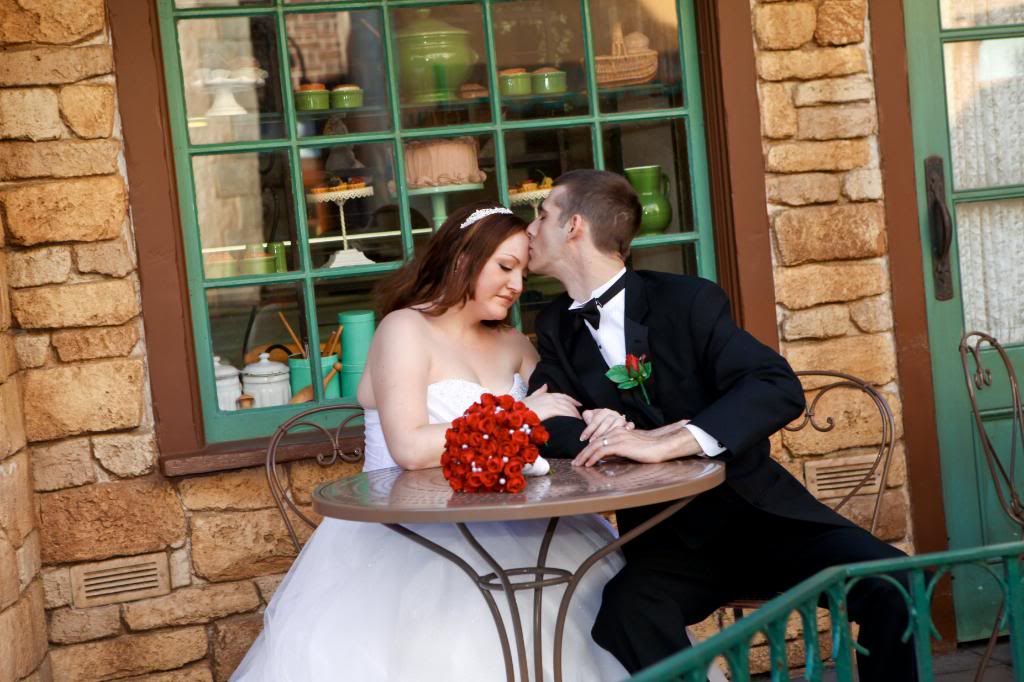 We left France and headed over to the UK. Of course, since we had our Illuminations Dessert Party in the UK, I really wanted to take photos there. If I *had* to choose a favorite from the Bridal Portrait Sessions, this one is it! After we move to Orlando, this is definitely going on a canvas in our house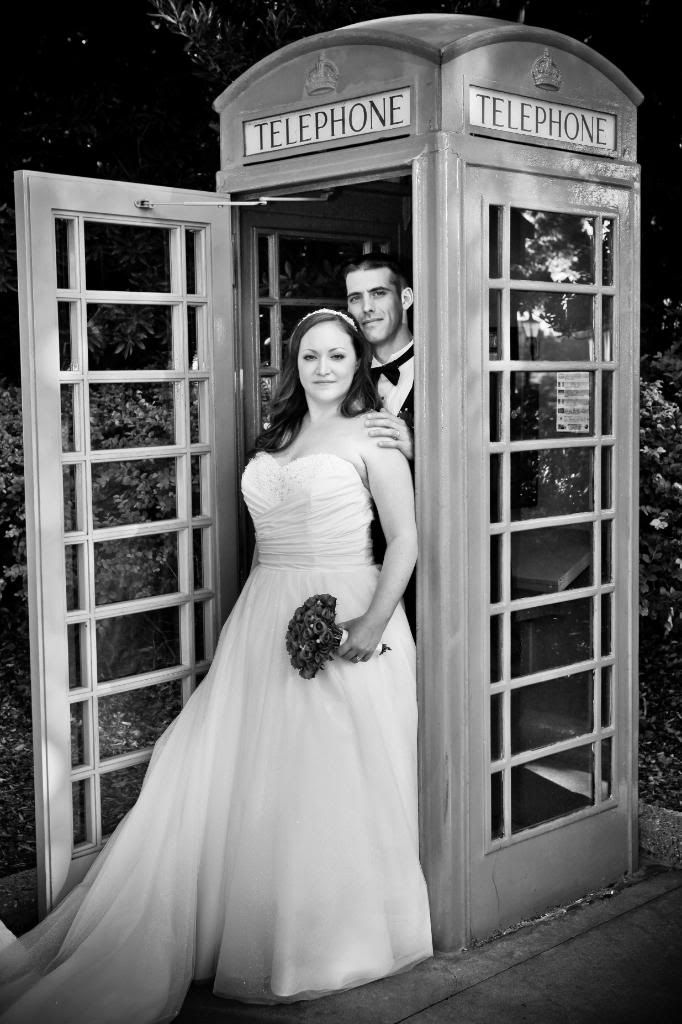 At this point, Future World was open so guests were coming in through International Gateway. People were just standing around watching our photo shoot, it was so cool! I wanted to go back into the courtyard to recreate a photo of me and my sister, Trish from 1988. This idea made the photographer's assistant, Alicia, tear up. She said it was amazing that I had been dreaming about this for such a long time and now it was actually happening. She was so sweet!!
This is one of our favorite all time family photos. It's one of those photos that resurfaces every few years and we talk about all of our memories. This was from our very first trip to Walt Disney World in 1988. I had to make poor Trish go and dig it out and it took her an hour to find it! Thanks, sis!! I'm the one on the right…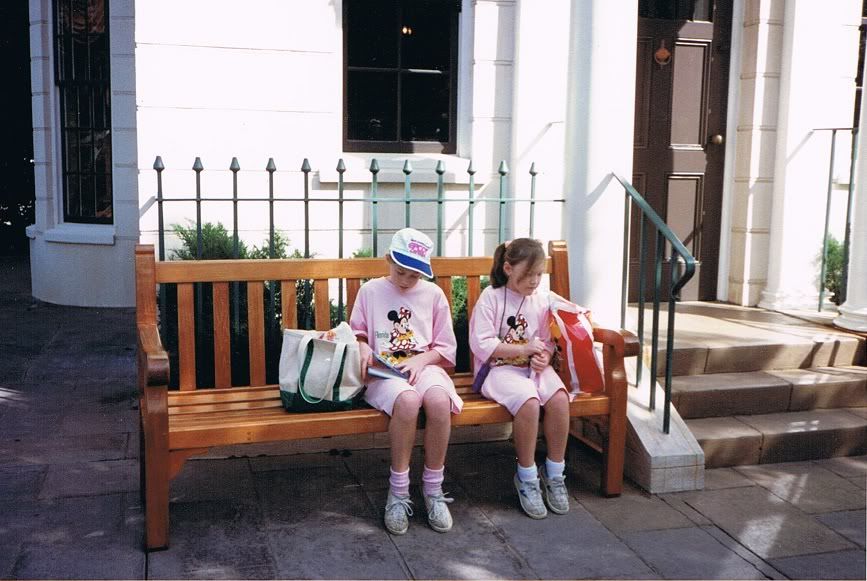 I hadn't seen this photo in a long time so I guesstimated which bench it was, I should have sat one to the right! Ah well, close enough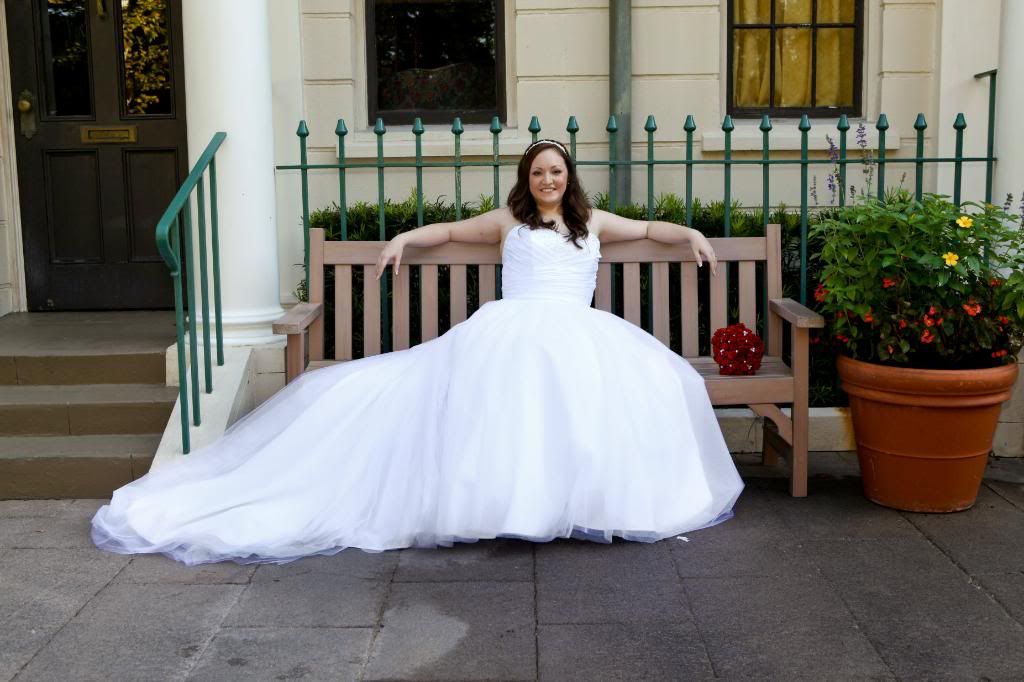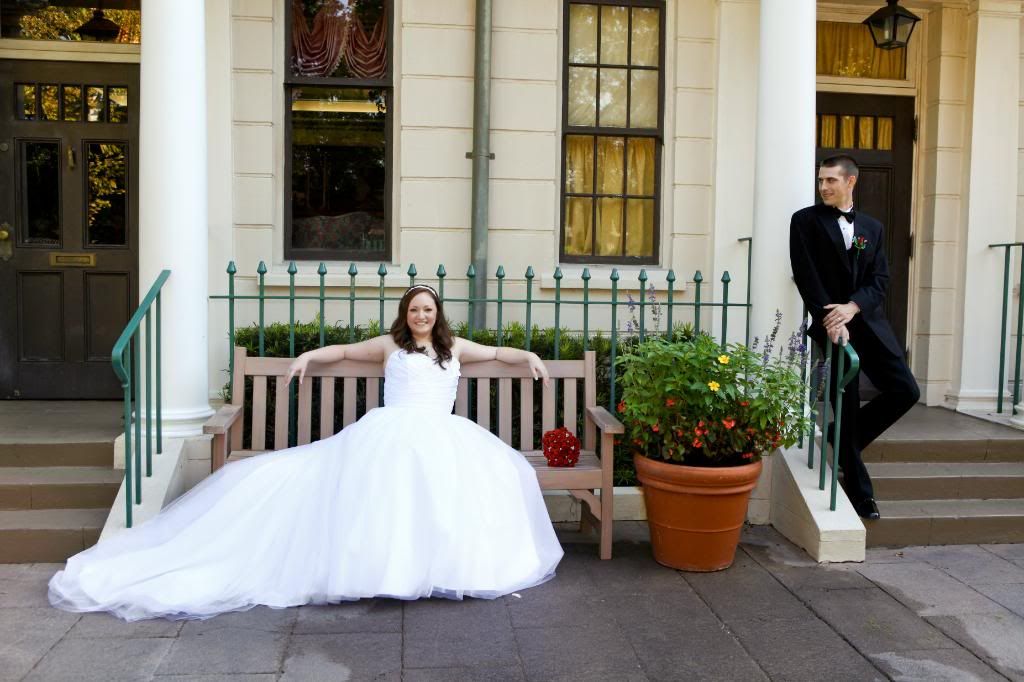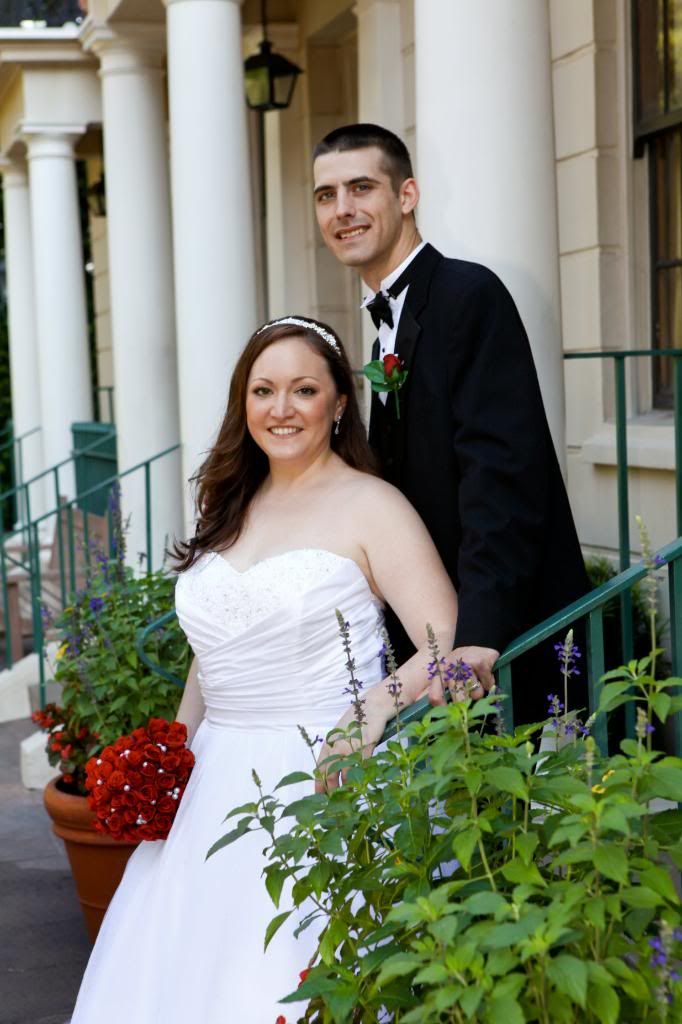 Our last photo spot was in front of the Rose & Crown. There were a lot of people milling about watching us, and applauding. It was the perfect final photo!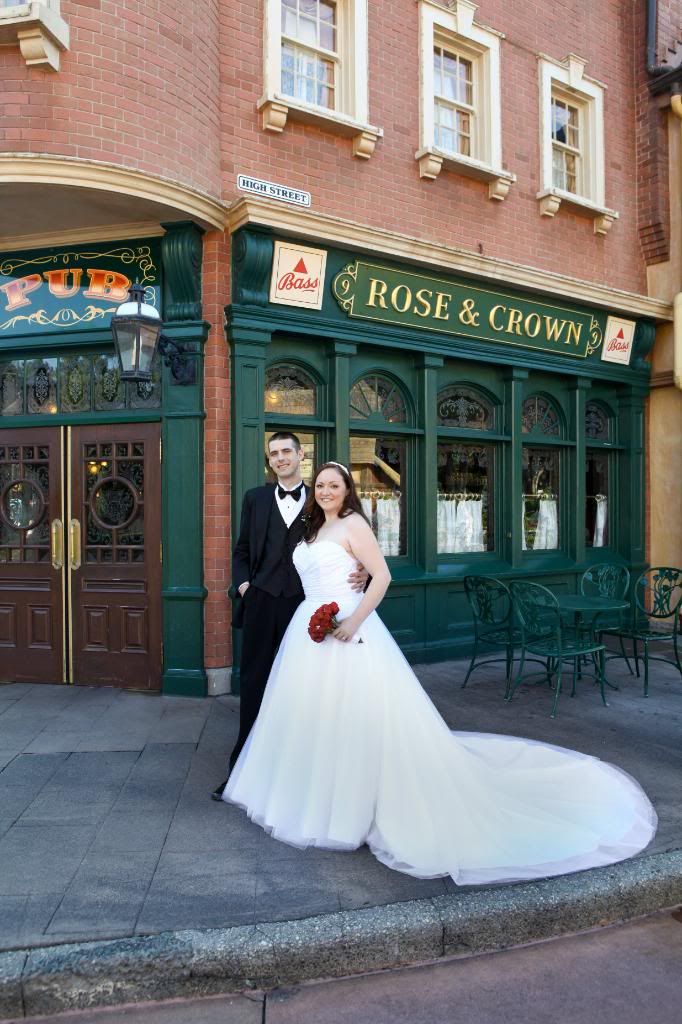 So that wraps up our magical theme park bridal portrait sessions! Joe asked where we would like to be dropped off and I said the lobby again. He said he could take us straight to our room but I wanted to walk around the resort in my wedding dress!! He dropped us off and Jason and I began our short walk to our room. When we passed by people gasped and one lady told me how beautiful my dress was and that she loved the sparkles
Then we got to walk by a completely full bus stop and everyone applauded. The cast member said "Now there's something you don't see every day!" I guess cast members at the Grand Floridian are quite accustomed to seeing brides and grooms but at Saratoga Springs it's probably not as frequent.
I loved every minute of our bridal portrait sessions and I highly recommend them to all Disney Brides and Grooms! You can only wear your wedding attire if you had a Disney Wedding by the way. At least that's what I was told. I really want to go back in a few years and do Hollywood Studios and Animal Kingdom. Maybe for an anniversary or…Vow Renewal! I also suggest buying the archival disc with all the photos. We got all 300 photos from the ceremony, reception, and bridal portrait sessions for $350. If you add professional photography to an Illuminations Dessert Party you can get those photos added to the archival disc as well. It's a pretty sweet value if you ask me! Otherwise, I would have to choose just 20 from each set!
Please enjoy a slideshow of all of the photos from our EPCOT portrait session!
Stay tuned for more from our Disneymoon including meeting new friends and WDW's 40th Anniversary!
Back to Wedding Trip Report Home Page