Hong Kong Disneyland Epic Trip Report June 2013 Part 1
July 15, 2013 in Trip Reports by Shelley
I have had an EPIC year. Just a few weeks after I took a day trip to Disneyland Paris, I had the opportunity to visit Hong Kong Disneyland! I had a business trip to Shanghai and since their Disneyland isn't open yet, I decided to extend my trip so I could visit Hong Kong. I planned a 2 night stay at Disney's Hollywood Hotel in a theme park view room with a 2 day park pass. The Hong Kong Disneyland Resort only has 1 theme park and 2 hotels and it opened in 2005. I really wasn't expecting too much since it is a much smaller and newer property than Walt Disney World but I was pleasantly surprised!
First of all, I was very worried about this trip because I do not speak Cantonese which is the native language in Hong Kong. When I went to Shanghai, the native language there was Mandarin and they are completely different. Whenever I travel to a foreign country, I always learn a few key phrases in their native language, here are some of the phrases I used in Hong Kong:
Hello = nihou (nee how)
How are you? = nihou ma (nee how mah)
I'm fine, thanks, and you? = ngoh gei hou, neih ne (en goh gay how, nay nay)
Excuse me = chengmahn (sheng man – to get attention, other words are used in different context)
Sorry = deuirnhjyuh (dung jii)
Thank You = m'goi (mmm goy)
All that studying didn't really pay off since all of the Castmembers spoke English
Some did not speak it well but they spoke enough to where we could understand each other. The only difficulty I had was with Counter Service staff and Maids.
This was the longest plane trip I have ever and probably will ever take in my life. I flew from Orlando (MCO) to San Francisco (SFO) which was about a 6 hour journey. Then I had a 4 hour layover and as always, I found myself a nice cubicle with power outlets so I could plug in and do some work (I'm a bit of a workaholic!). From there I took a 14.5 hour flight to Hong Kong airport (HKG). My flight was fairly uneventful and it was definitely the most culturally diverse flight I have ever been on LOL. Most of the passengers did not speak English but the flight crew did so I was ok. One of the in flight movies was Oz The Great and Powerful but it was dubbed in Japanese with Mandarin subtitles!
I left Orlando at 6AM on a Wednesday and landed in Hong Kong a little after 6PM local time on Thursday – a total travel time of 27 hours from the time I left my house plus a 12 hour time difference! When I walked off the plane, I was surprised at how hot it was! Florida has nothing on Hong Kong, it is way more hot and humid in Hong Kong. Not only outside but inside as well, they do not utilize air conditioning like other airports I have been to. There were fans blowing everywhere but that just isn't enough. I was pretty miserable standing waiting for my bags. Once I got my bags, I made my way to the Viator booth to check in for my pre booked airport transfer. I have traveled the world enough now that I find taxis to be too much of a hassle so I always pre book my airport transfers. In Hong Kong, there is a lot of petty theft and I did not want to be standing outside in a taxi line as bait. I already had my credit card stolen once this year! Taxi drivers and thieves generally target Americans especially because they think we have a lot of money and we don't take the time to learn the native customs. I can't tell you how many times I've been ripped off on taxis in Europe and the UK. I would much rather have someone waiting for me at the airport to take me to my hotel, especially in Hong Kong after that epic long journey!
I was very happy with Viator for my airport transfer. It was pretty pricey but then again I was picked up in a nice Mercedes and the driver spoke English and gave me a cold bottle of water to enjoy on my 15 minute trip from the airport to the hotel. I did not know that Hong Kong is heavily influenced by the British so they drive on the left side of the road. I wish I had a better camera with me, I took all my photos on my iPhone for this trip. I have since purchased the Canon SX280 point and shoot for an upcoming trip to Rome
If I had the chance, I would have taken pictures of the road signs as we drove into the Hong Kong Disneyland resort. The signs are similar to Walt Disney World, the colors are vibrant and you can tell immediately once you've crossed over into a Disney owned property
As we pulled up to the hotel I let out a SQUEE! I purposefully did not look at many pictures of the hotel and driving up at night it looked SPECTACULAR!!
The bell staff greeted me and took my bags out of the car and gave me a receipt. They told me once I got to my room all I had to do was call bell services and give them my receipt number. And with that, I walked into Disney's Hollywood Hotel for the first time!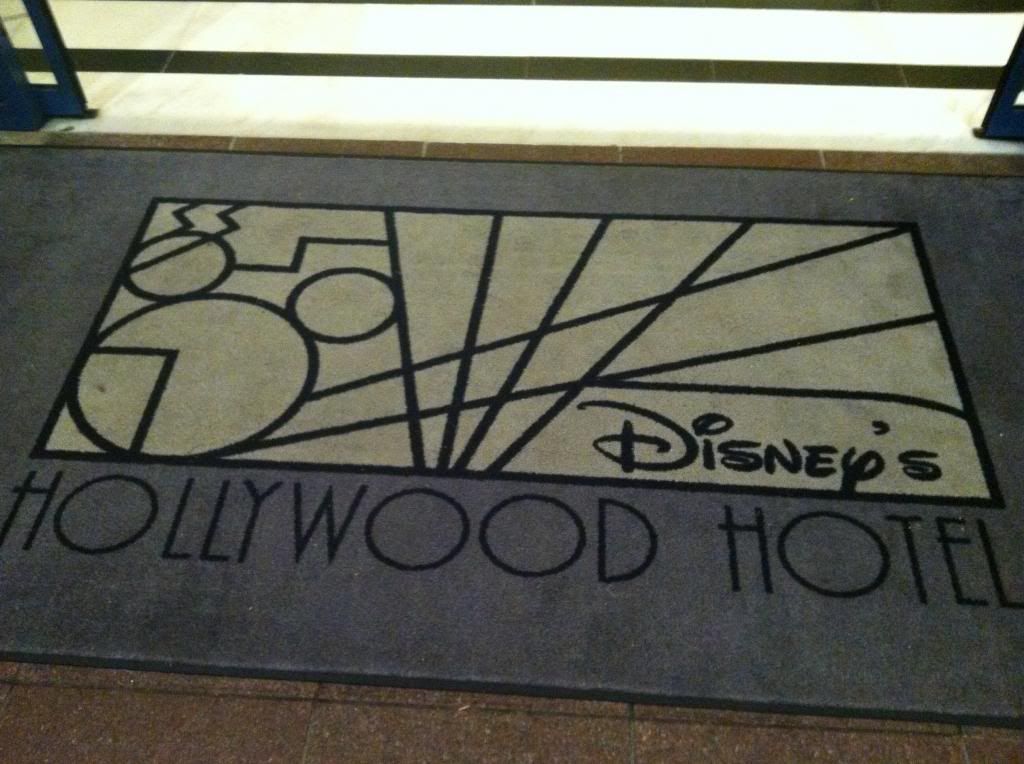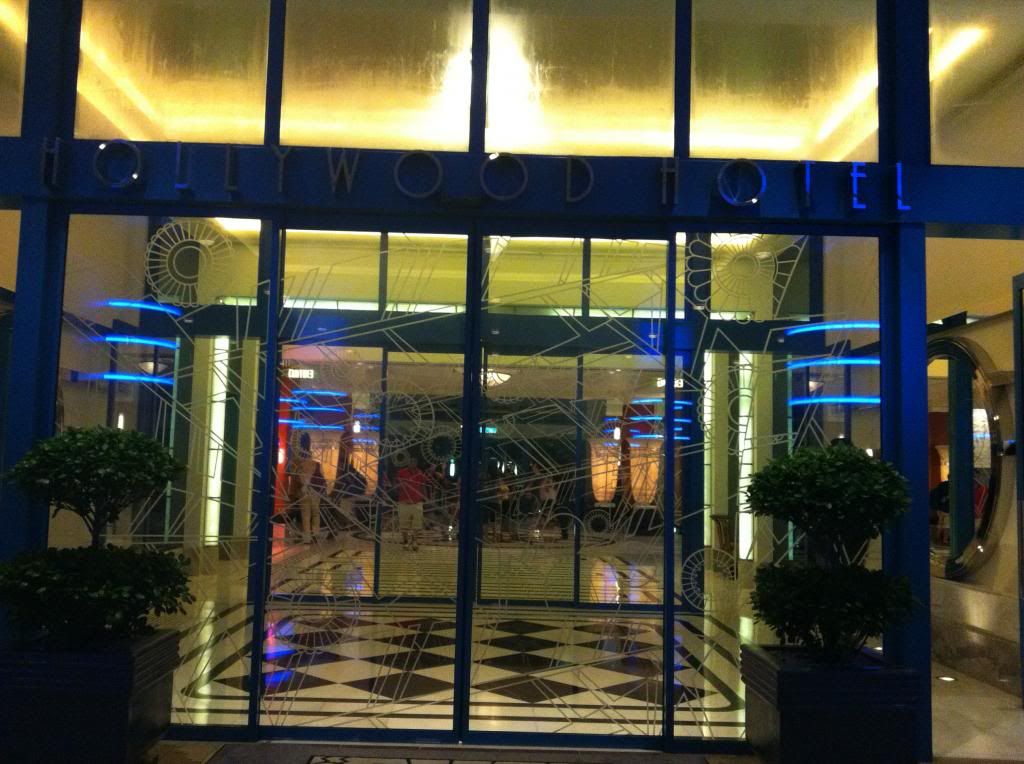 There was no line at Check-In and I walked right up! The girl who helped me was incredibly nice and I had a lot of questions that she answered with ease. She also told me that I could view the fireworks from my room and they would be starting in about 20 minutes. They even had a channel on the TV that played the music! I literally went straight to my room and got my iPhone camera all set up to record the show, enjoy! Sorry about the shaky camera work, I was busy wiping away the tears that were streaming down my face from start to finish – I was watching fireworks in Hong Kong Disneyland!! And I have to level with you, I'm tearing up bigtime now as I write about it
After the fireworks, I took a minute to compose myself and then I got to work! I had a hotel to investigate! First, I took a video walkthrough of my room, I actually do this on all my trips – I love nice hotels!
I was running on pure adrenaline at this point and I wanted to capture every single moment! Here's a shot of the folder, stationary, and other hotel goodies they gave me when I checked in!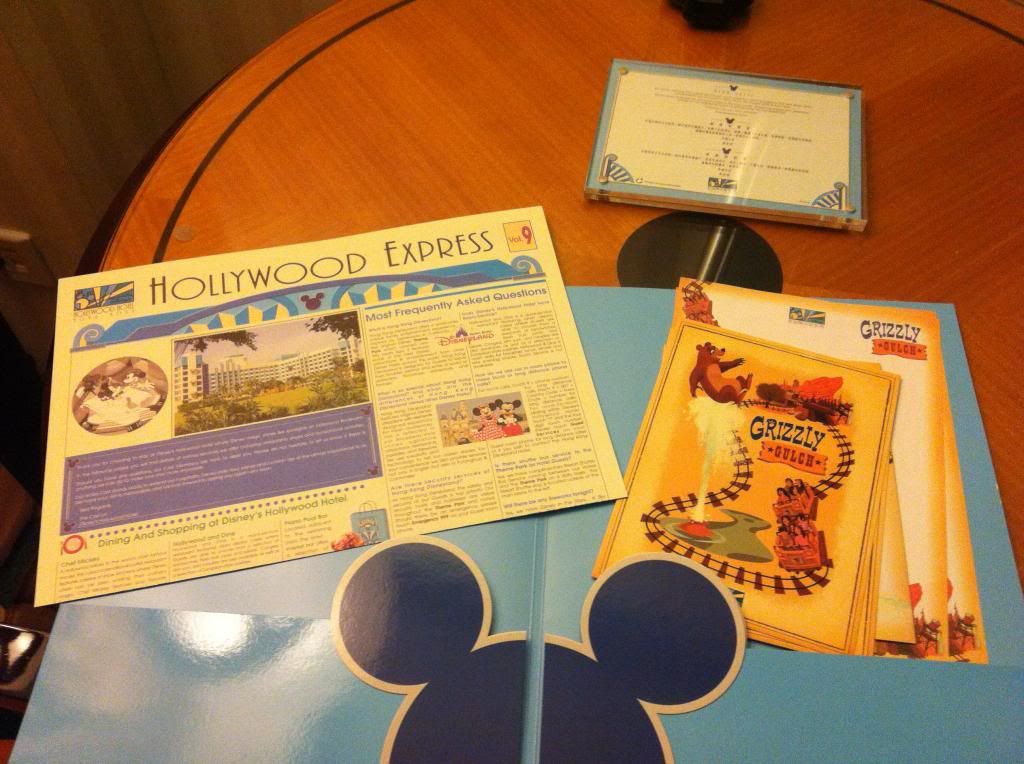 I find it interesting that Hong Kong Disneyland has not implemented a key to the world yet – they give you 3 different things for your hotel ID, park ticket and room key!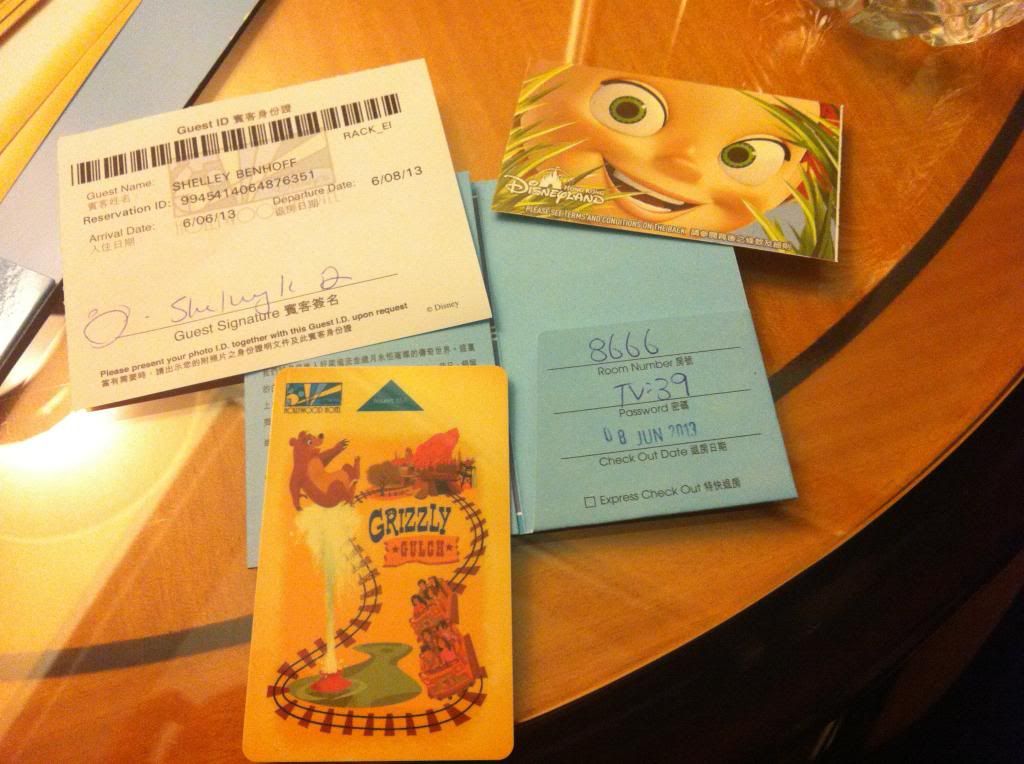 I was pretty hungry at that point so I started making my way downstairs to Hollywood and Dine, their quick service restaurant. I had to stop on the way and take a few photos in the hallways, I loved seeing signs in English and Cantonese!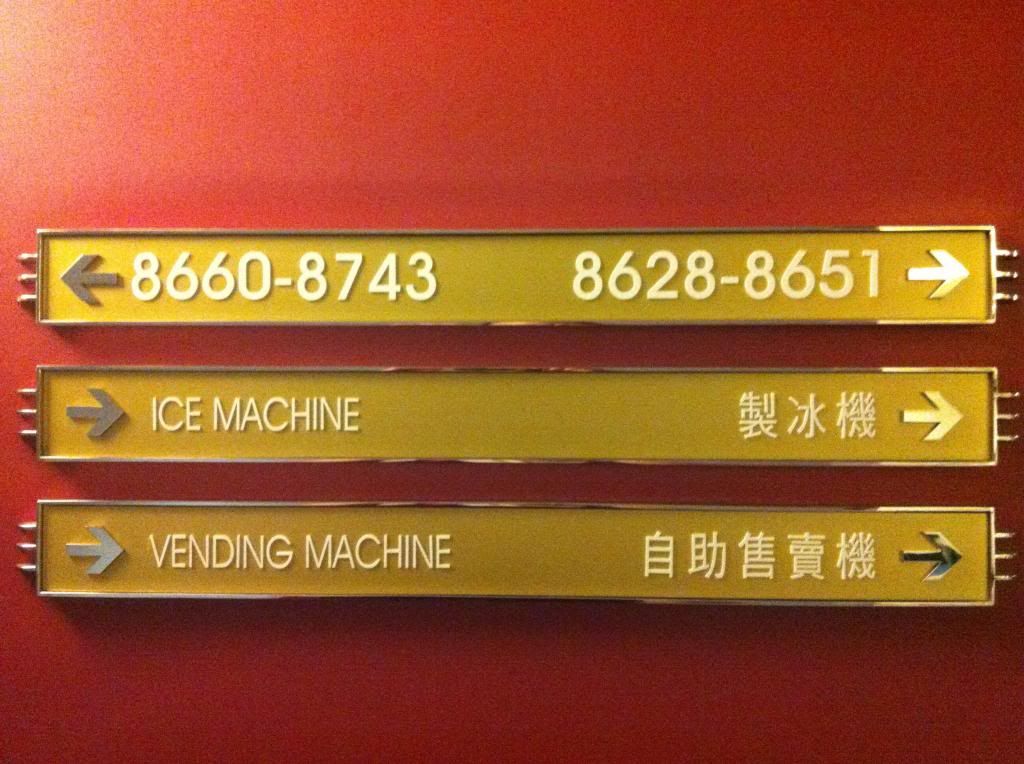 There were Disney and Pixar posters everywhere in this hotel which fit the Hollywood theme very well!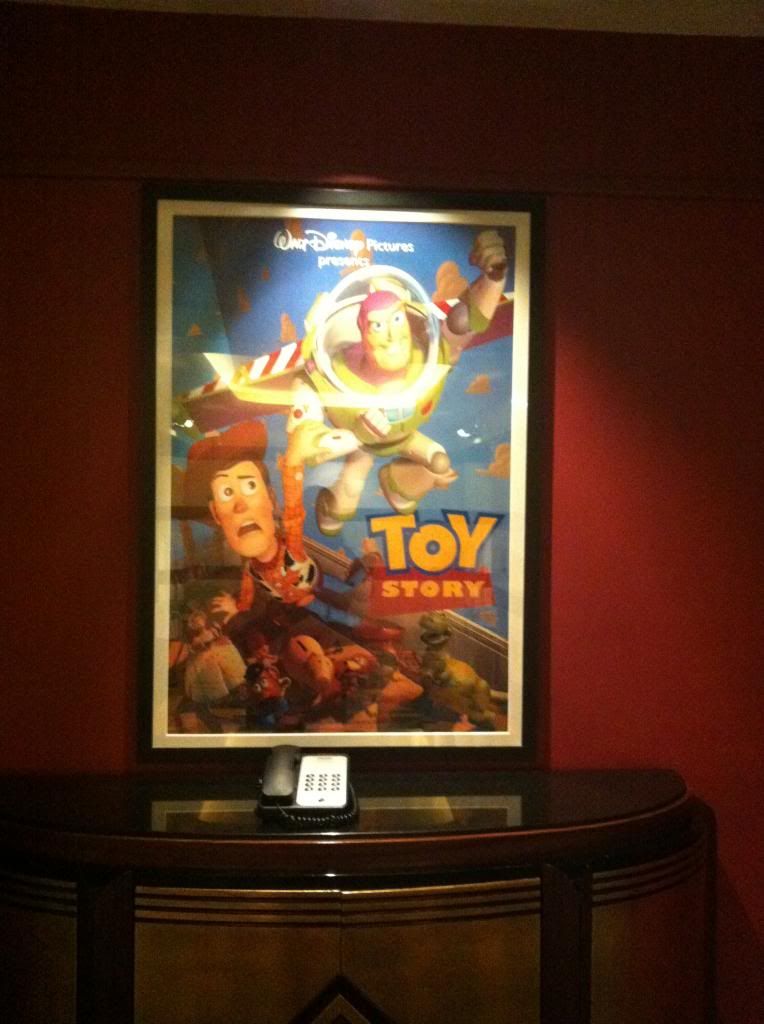 I loved the elevators here, they reminded me of the ones on the Disney Dream!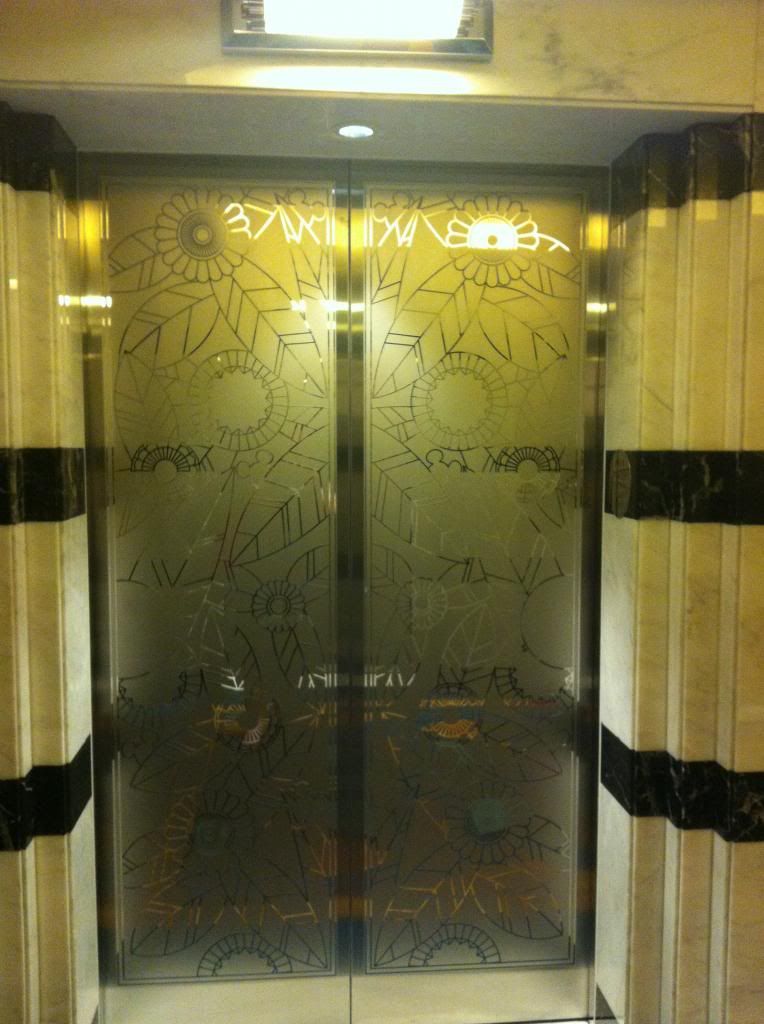 I wish I could buy these giant Mickey light sculptures they had all around the lobby!
Hollywood Mickey greets everyone as they walk into the corridor with the restaurants, he's so classy!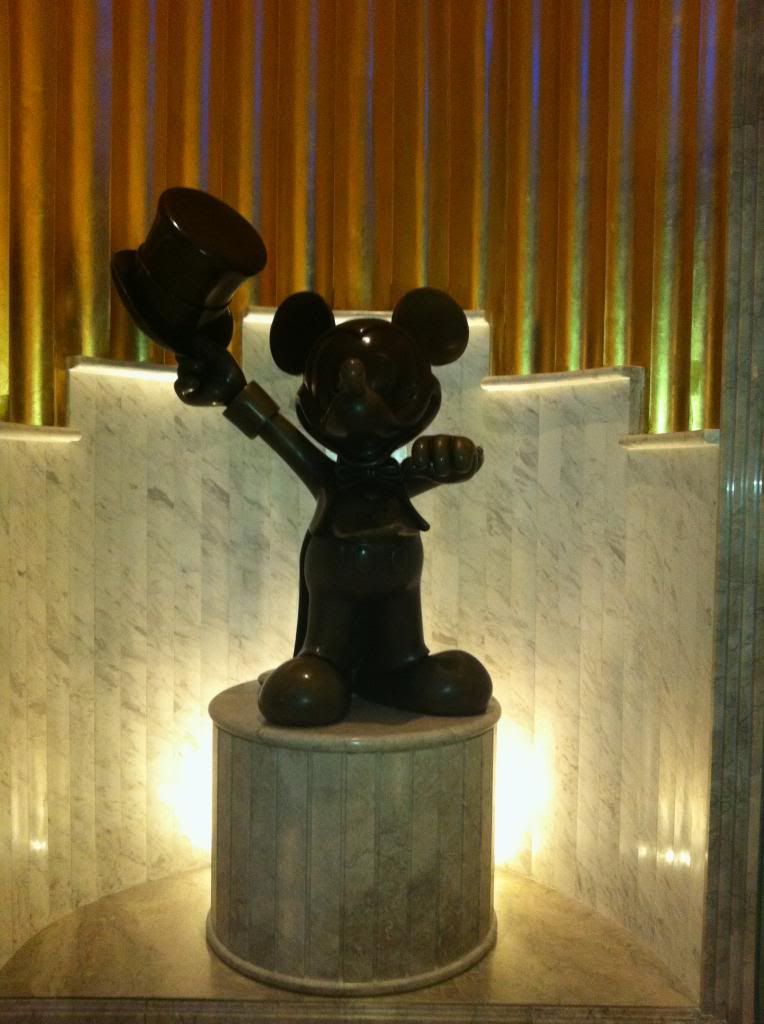 Next stop, Hollywood and Dine!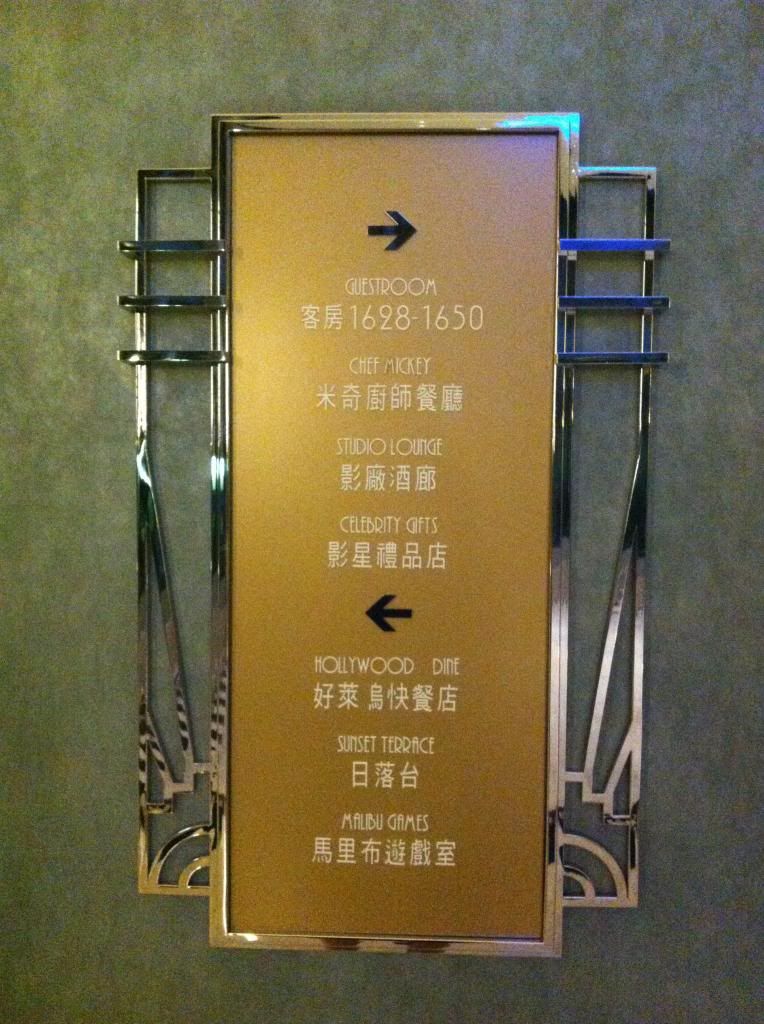 Having just walked through Les Mysteres Du Nautilus 3 weeks earlier in Disneyland Paris, I was geeking out at the 20,000 Leagues Under The Sea Poster in the hallway!
I had to take a photo of my #1 favorite Disney Princess! I ran for Team Aurora in the Princess Half Marathon 2013 and I signed up for her team again in 2014!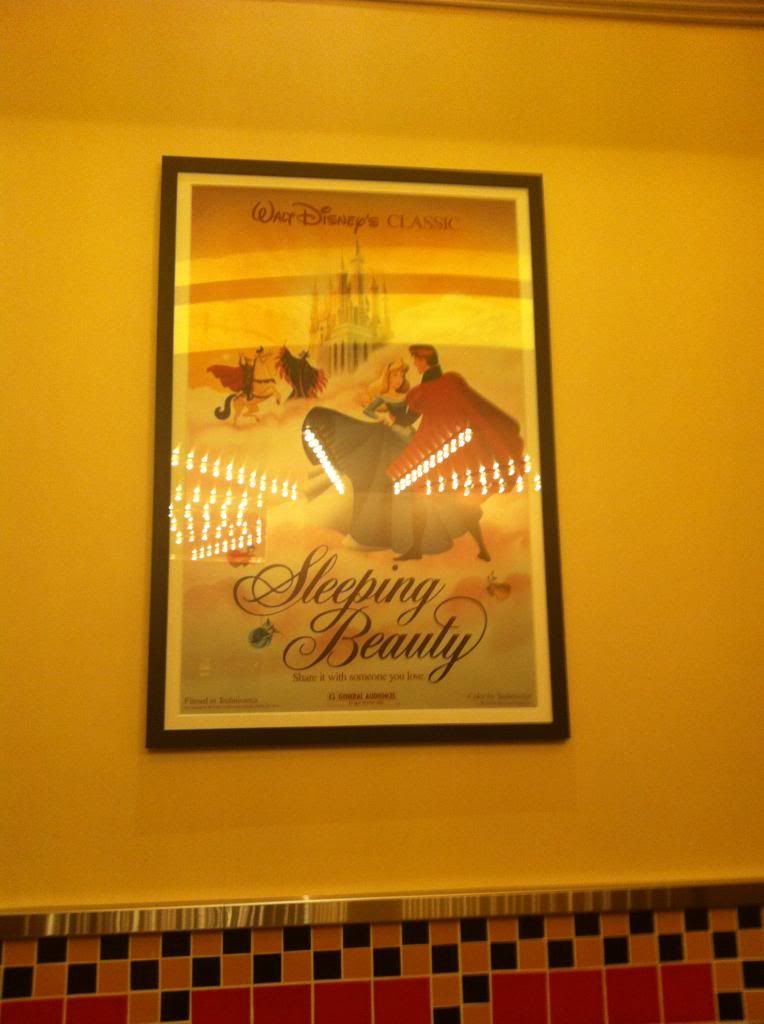 Time for dinner!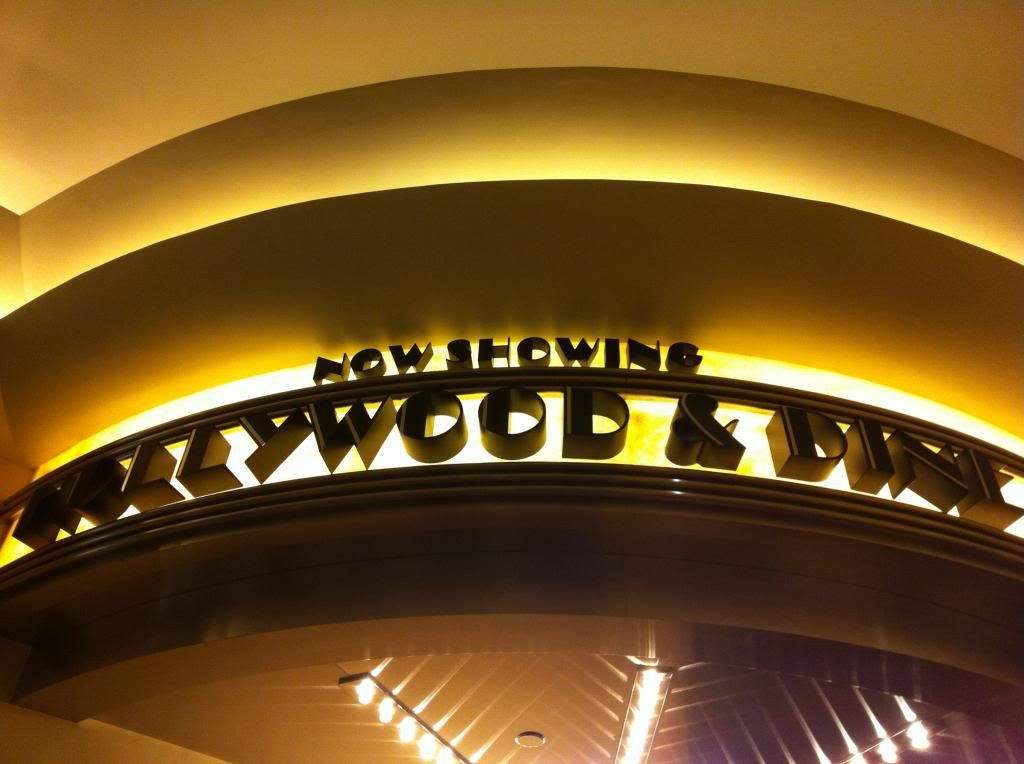 I was pretty disappointed with the limited choices on the menu but it was after 9PM at this point and they don't have all of their meal options available at all hours. I opted for the Japanese Teriyaki Chicken Udon and it was very good!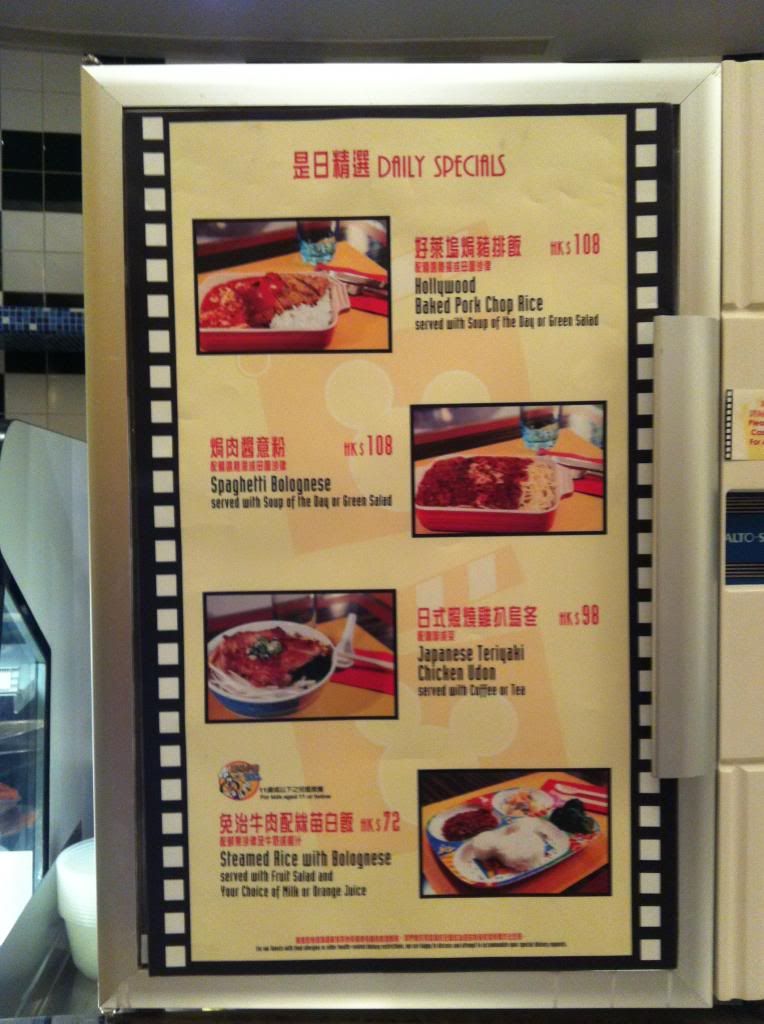 There was no soda fountain, only a selection of packaged juice, beer, champagne, milk, and soda.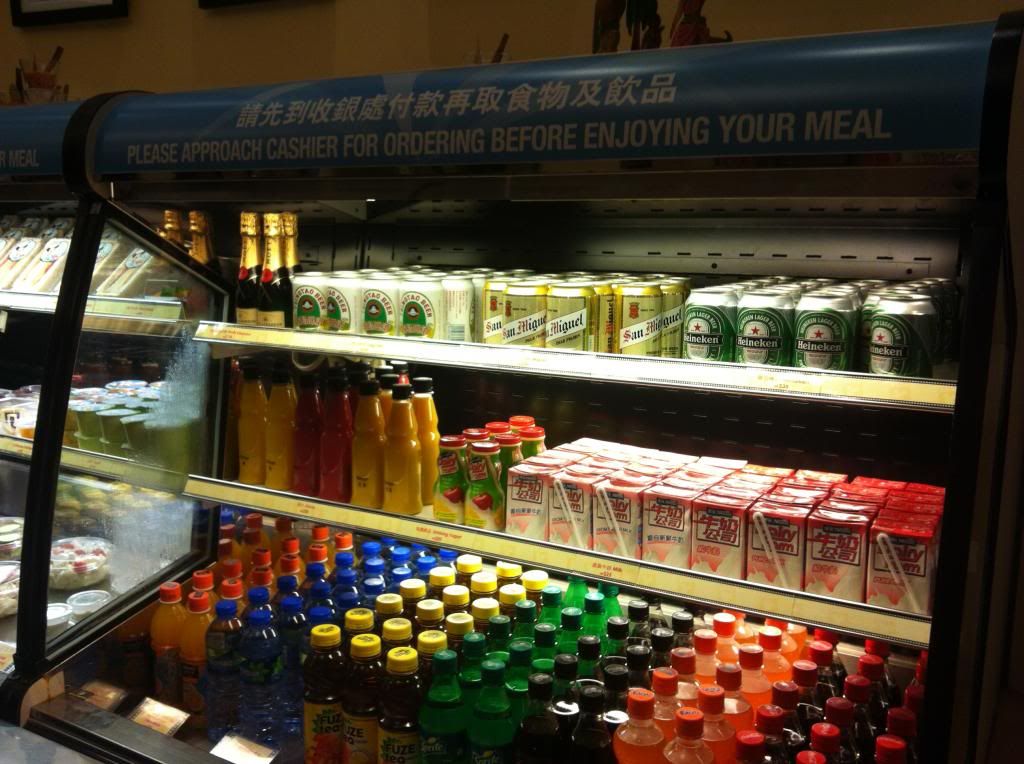 There were many healthy options in the self serve snack area and they all looked pretty good!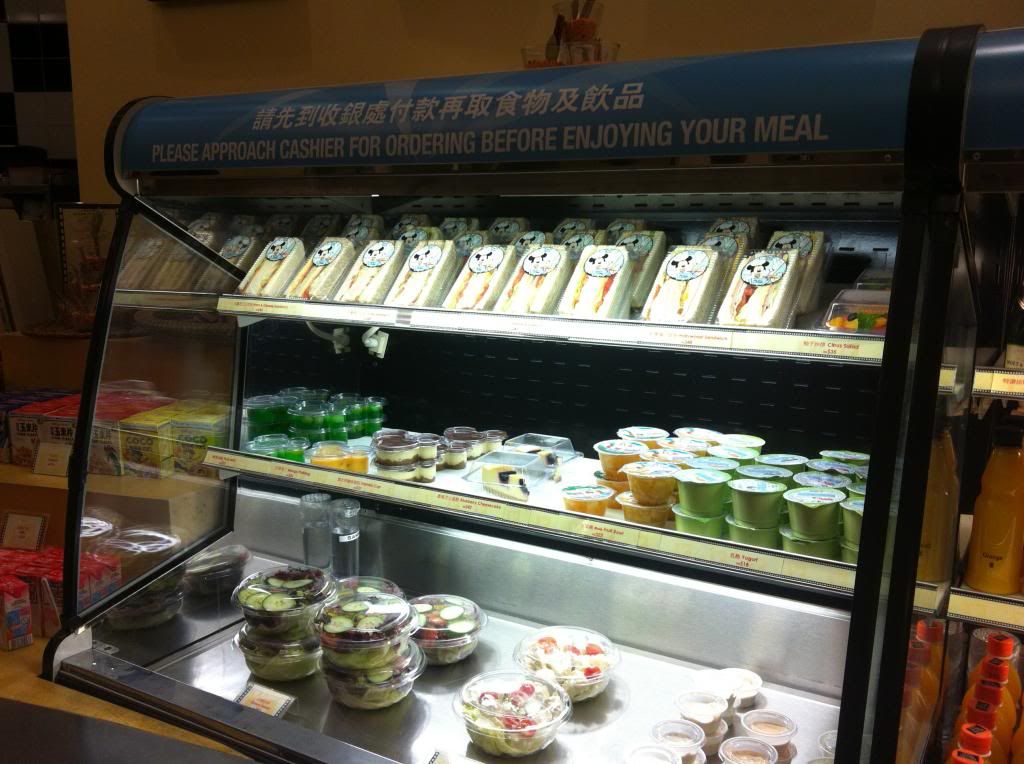 I love this photo of Chinese Frosted Flakes, Corn Flakes, and Cocoa Pops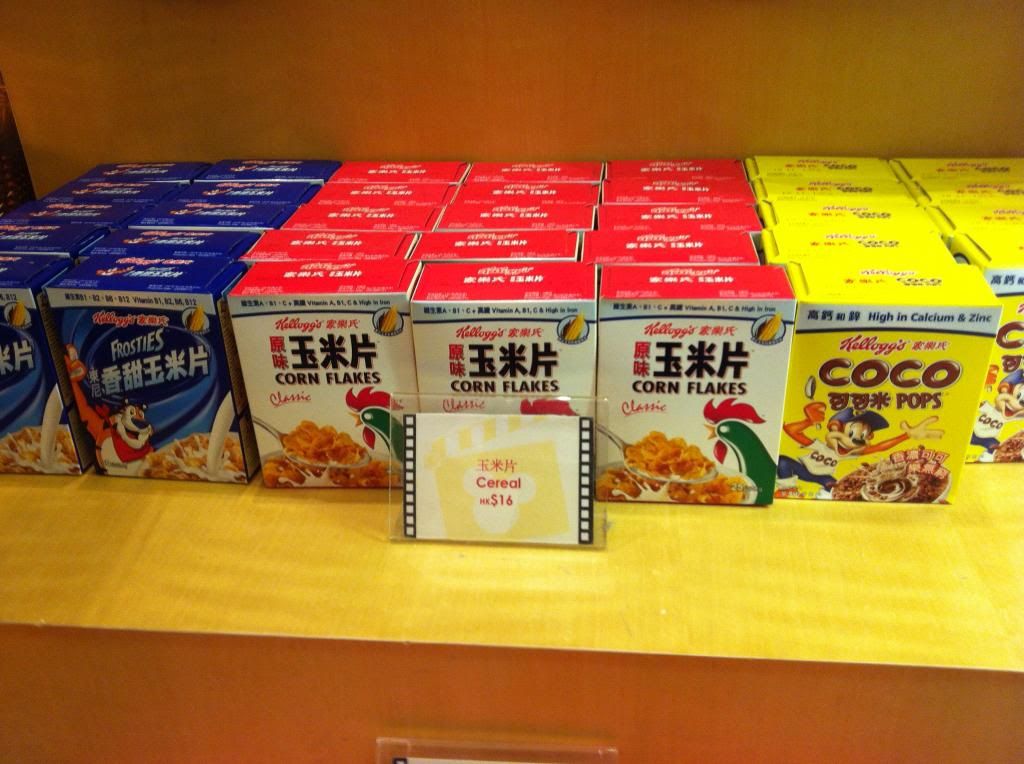 There was a very nice and elegant display of all the food they weren't serving at that late hour, thanks a lot!!
They had a strange ordering system here, you had to get your drink and go up to the cashier to order your food and pay first. I waited for about 5 minutes for my food to be cooked but it did seem to be cooked to order. I made my way to the condiment and napkin station and what I saw next almost made me drop my tray – PRINTED NAPKINS!!! Walt Disney World discontinued the use of printed napkins back in June 2012 and I have been pining ever since. I used to collect the napkins on every trip and my family and I would bring them out only for special occasions. I still have napkins dating all the way back to our very first trip to WDW in 1988. And so, my collection of Hong Kong Disneyland printed napkins began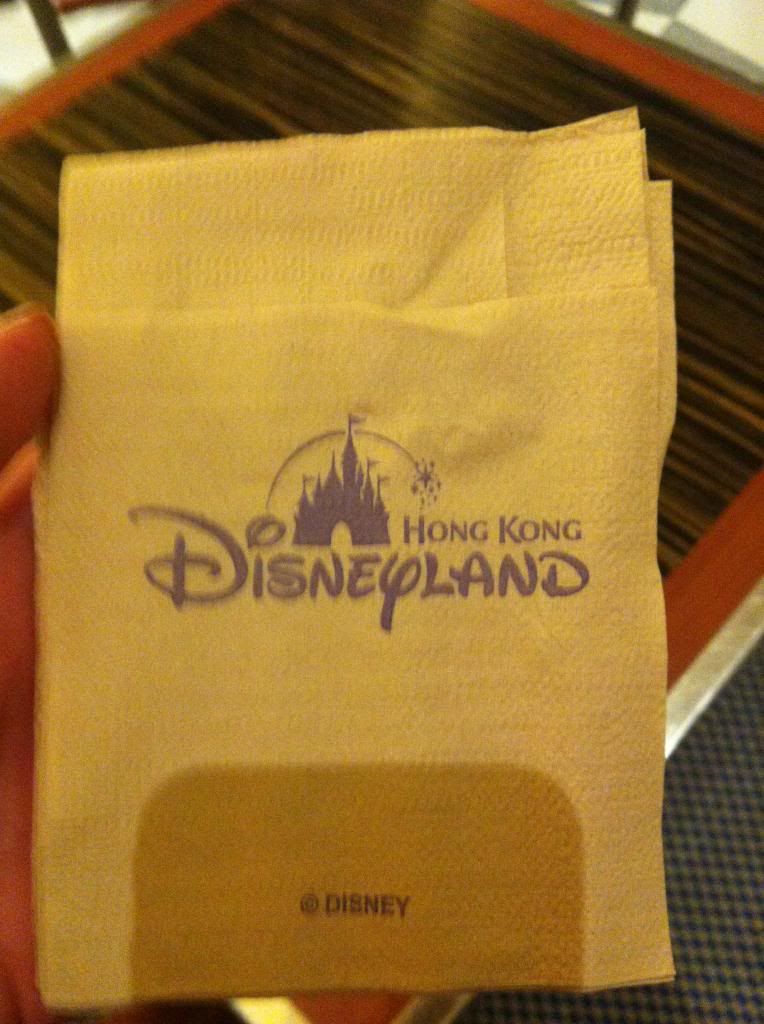 Japanese Teriyaki Chicken Udon with a steaming hot cup of English Breakfast tea, YUMMO!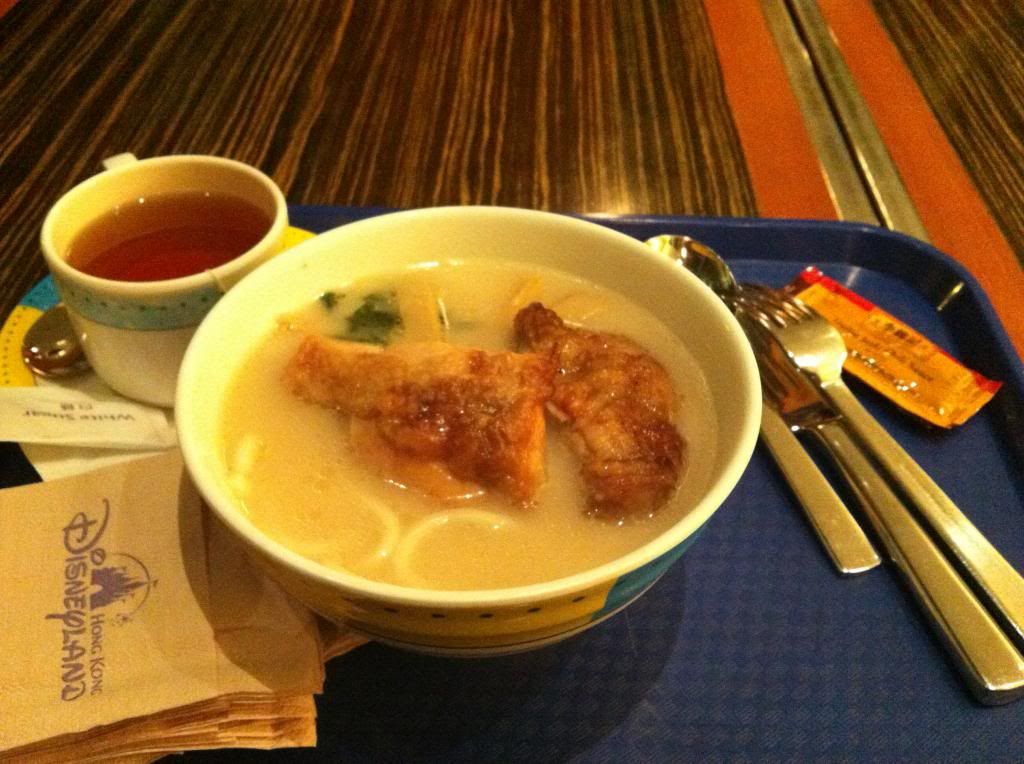 The collection begins hehe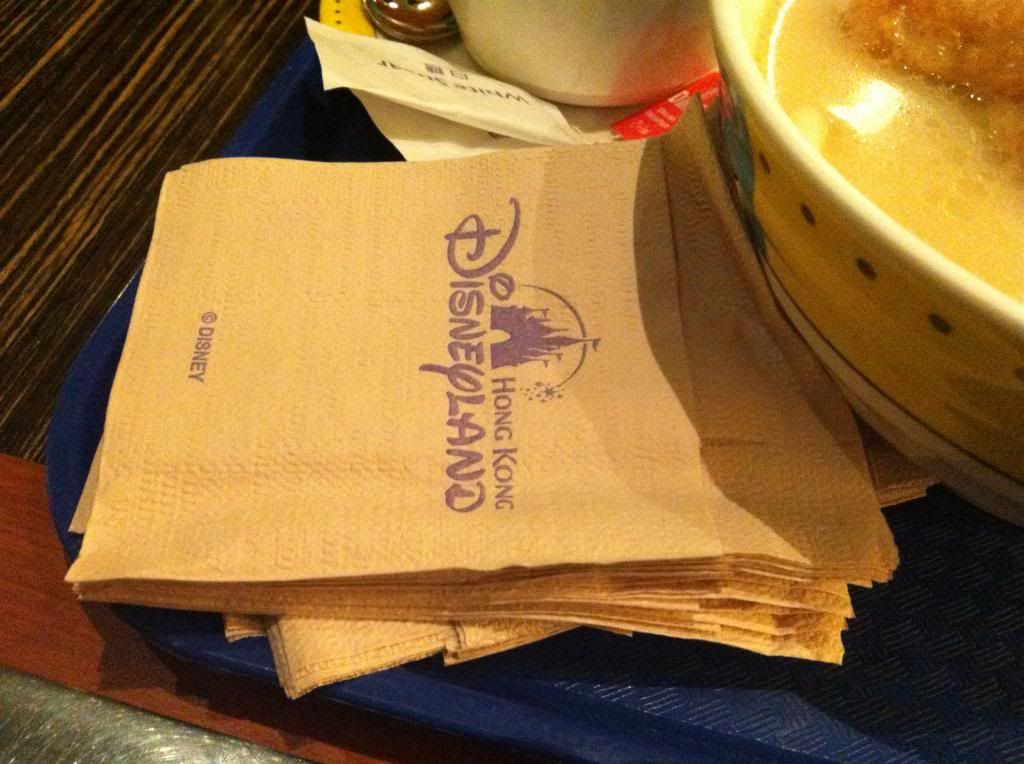 After I ate, I sat and worked in the restaurant for awhile since they had free Wifi and a view. I was very surprised at how small Hollywood and Dine was. The restaurant itself was fine but I had better food in the park. There was not that much seating here either. I am used to the enormity of Walt Disney World Resorts and most of them have huge quick service restaurants.
I decided to walk around the hotel a bit before I went to bed. I was pretty tired but Hong Kong Disneyland did not open until 10AM the next day so I knew I could sleep in. I love the Mickeys everywhere in this hotel!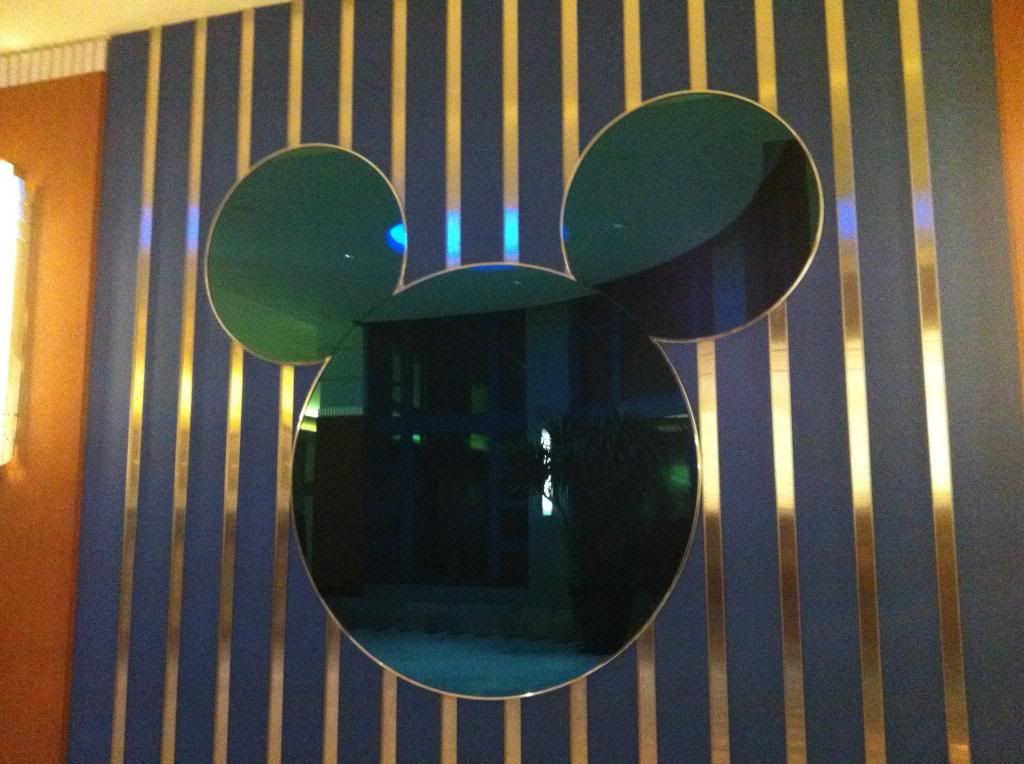 There is a Chef Mickey's but it is much smaller than the one at the Contemporary in WDW.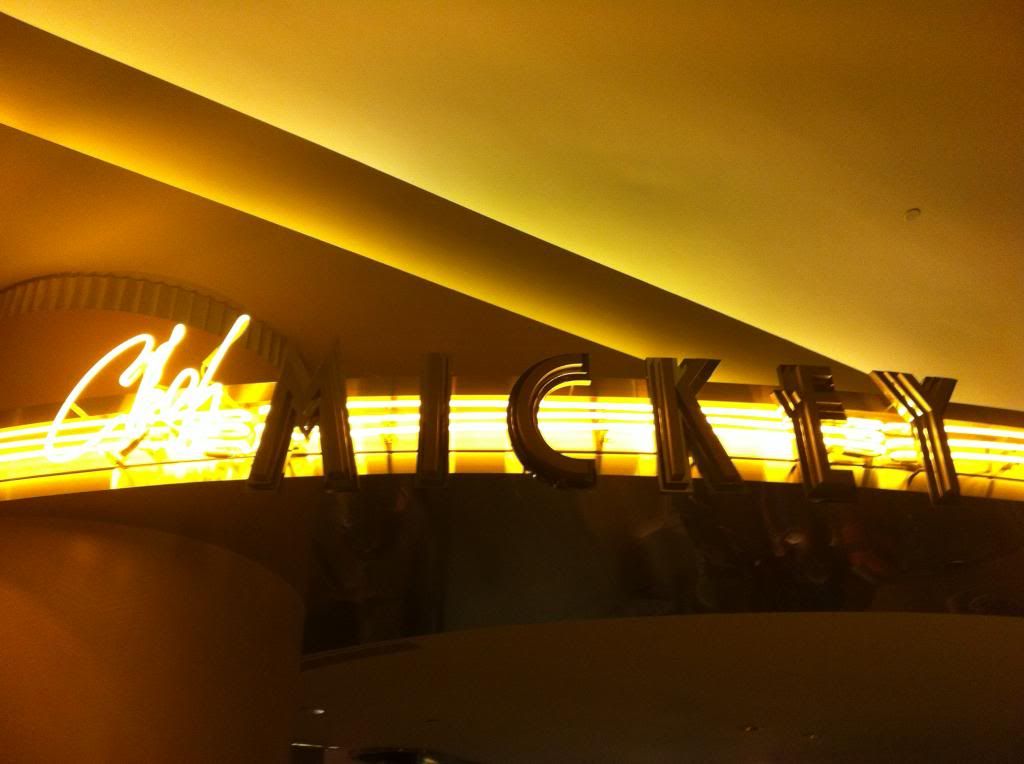 I walked outside to see where the bus stop was, I wanted to be prepared for the morning! I was happy to see Mystic Point featured on a bus, I was SUPER excited to be able to ride Mystic Manor which opened just a few weeks earlier.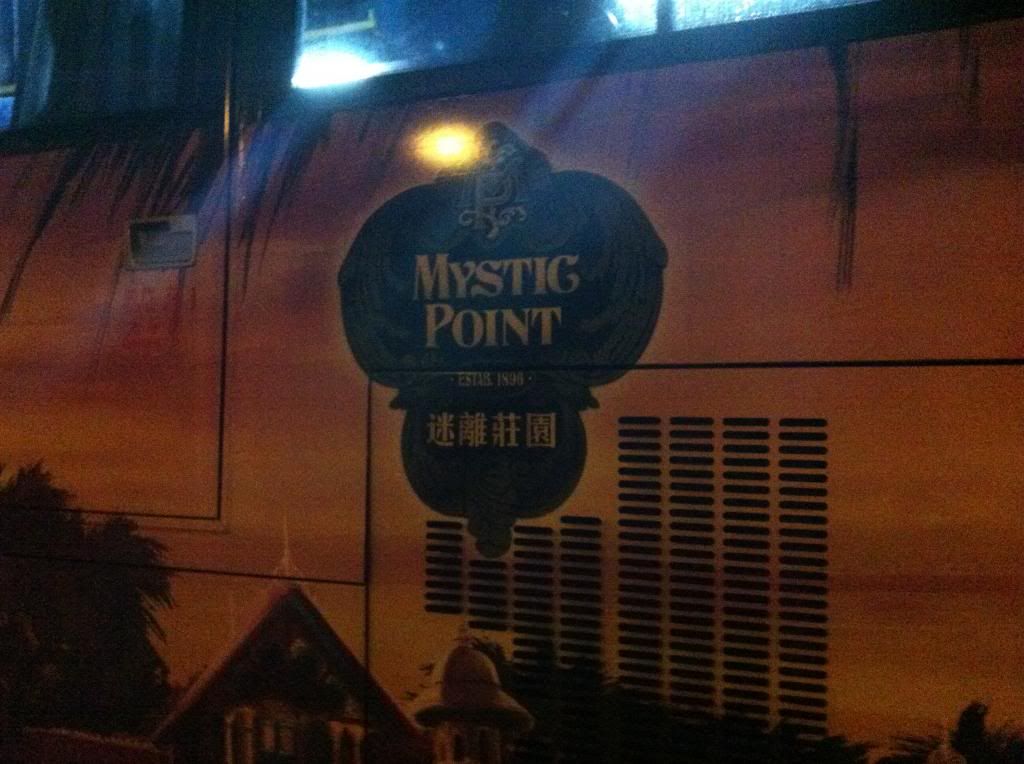 I know I posted this photo earlier but it's just so spectacular! I love the look of Disney's Hollywood Hotel at night, it's very retro Hollywood.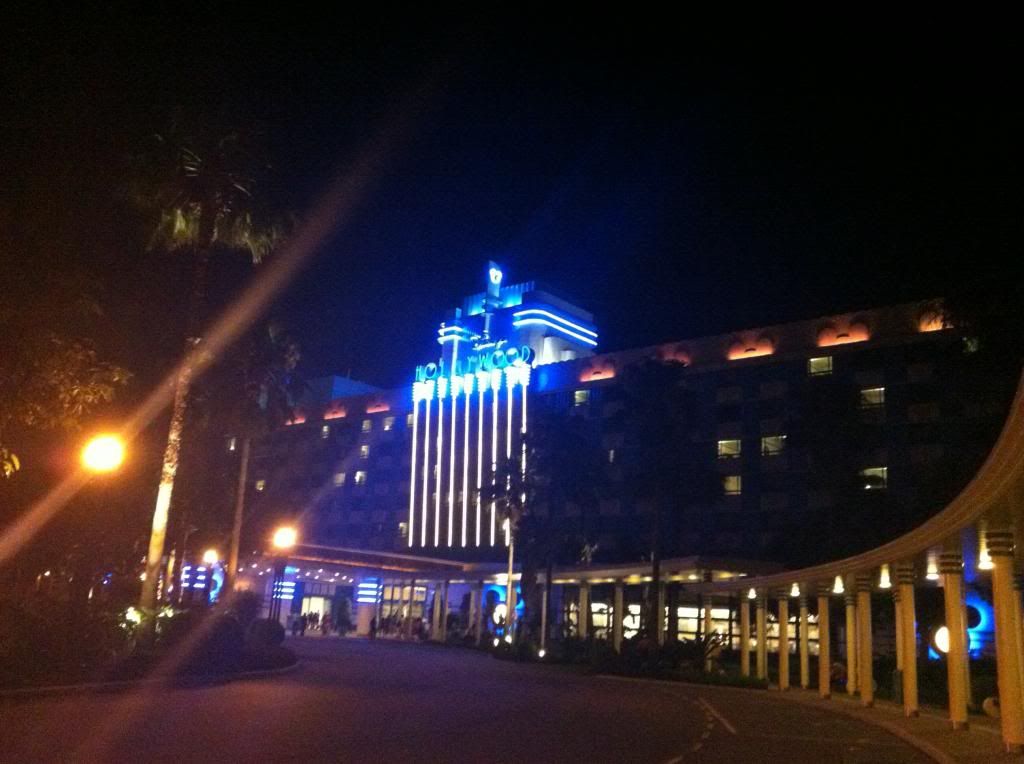 I loved these Mickey lights, they were all around the outside of the hotel!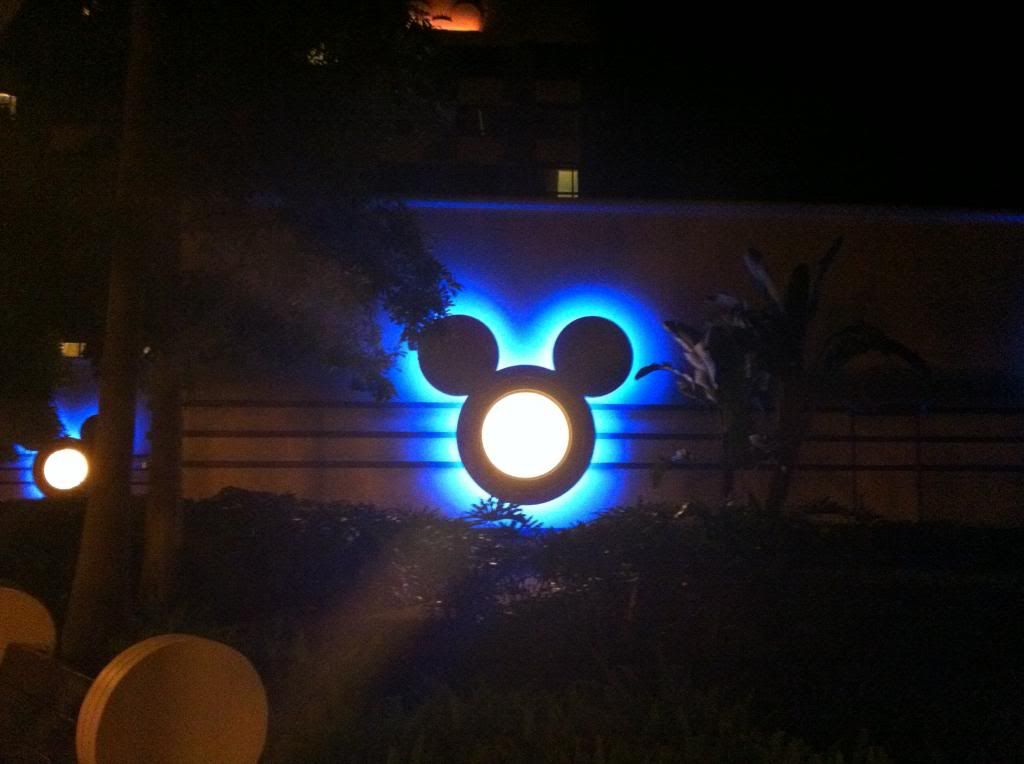 Mickey's everywhere, even surrounding the elevator buttons!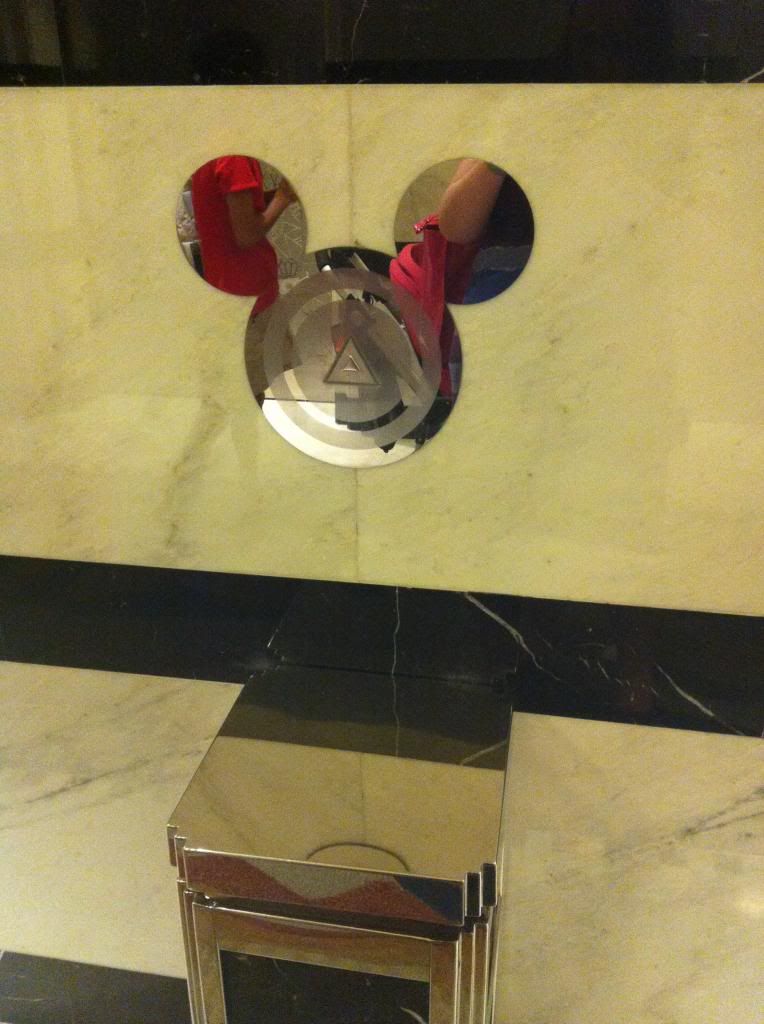 As I tucked in for the night, I had to take a photo of a fantastic hotel goodie – free slippers! There were 3 sets in my room and yes I brought all of them home
And no I will never wear them!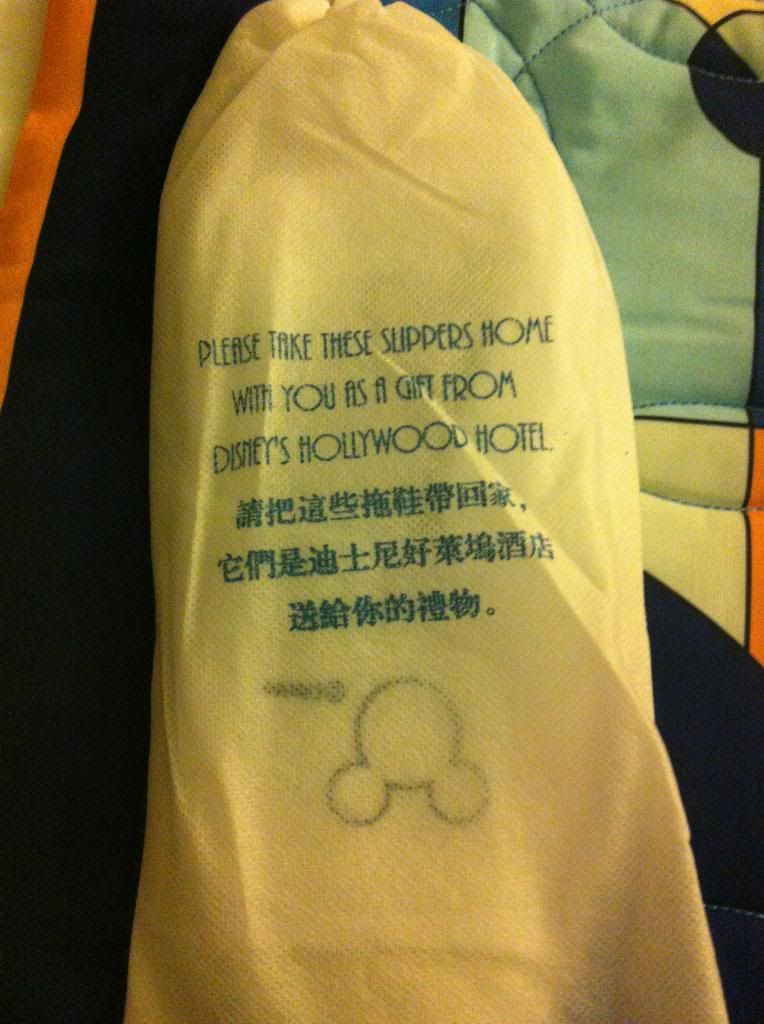 One thing I did before I went to bed was call the front desk for an ethernet cable. There was no Wifi in the room and I had misunderstood the girl when I checked in when she told me there was internet in the room, I immediately assumed it was Wifi. They have an ethernet port in the room and it is not free. Oh well, I had to pay for it because I had to work while I was there. When I called the front desk they did not know what an ethernet cord was so it took awhile to get them to understand that I needed the cord to connect my laptop to the internet. But after we got it straightened out, the maid was there with the cord in less than 5 minutes, fantastic service!! They really impressed me from start to finish and I am not easily impressed.
So that wraps up the first 2.5 hours I spent at Disney's Hollywood Hotel! Yep, this is going to be a long trip report, I took TONS of photos and I want to remember every single magical moment!